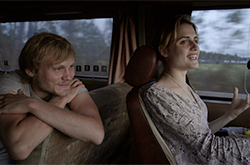 Original Name: 303
English Name: 303
Year: 2018
Run Time:119'
Language: German, English
Type (Colour/ Black & White): Colour
Country: Germany
Director: Hans Weingartner
Producer: Hans Weingartner
Cast: Mala Emde, Anton Spieker
Screenplay: Silke Eggert, Hans Weingartner
Cinematographer: Mario Krause, Sebastian Lempe
Editor: Benjamin Kaubisch, Karen Kramatschek, Sebastian Lempe
Sound Designer:Johannes Kaschek
Music Composer: Michael Regner, Ani DiFranco, Patrick Watson, Beranger Gras, Tim Braem, Mighty Oaks, Augustin
Costume Designer: Svenja Gassen, Renata Ramiro
Production Designer: Ricarda Johanna Schwarz
Production Company: Kahuuna Films Gmbh, Neuesuper GMBH
World Sales: Global Screen Gmbh
World Sales Phone: +49 89 64 99 26 86
World Sales Email: claudia.rudolph@globalscreen.de
Festival
Berlinale 2018
Tallinn Black Nights FF 2018
Valladolid IFF 2018
German IFF of Australia 2018
Selected Filmography
The White Sound 2000
The Edukators 2004
Reclaim Your Brain 2007
Hut In The Woods 2011
Director's Biography:
Hans Weingartner (b. 1977, Austria) studied at Film and Television at the Academy of Media Arts in Cologne. His first film The White Sound (2000) was well received. The Edukators (2004) competed in Cannes and became the cult movie of a new political generation and one of the most successful German movies of the decade. With Reclaim your Brain (2007) he created a biting satire about brainwash television. In 2012 he returned to his key subjects with Hut in the Woods - mental illness and the fight for freedom in an oppressive society.
Synopsis
When biology student Jule discovers she's pregnant, she sets out on a journey to Portugal in her old "303" camper van to tell her boyfriend Alex. Outside of Berlin she picks up Jan, a political science student, who's hitch-hiking to Spain to find his biological father, whom he has never met before. After a heated argument, Jule kicks Jan out of the bus and leaves him at a rest stop. That night, Jule is assaulted in her van. Jan, who happens to be spending the night at the same truck stop, notices and scares the attacker off. Over tea in Jule's camper, they find out that they actually like each other.

So the next morning, they ride together, again! As they both love to debate, they're soon getting into deep talks about human nature, love and relationships, the meaning of life and everything else.

As they travel on to Spain, their conversations become more and more personal and intimate. They both realize a relationship is not in the cards. But when soul mates meet, anything is possible...