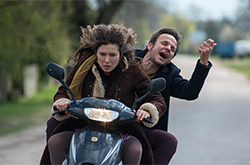 Original name: Dziura w głowie
English name: A Hole in the Head
Year: 2018
Run time: 93'
Language: Polish
Type (Colour/ Black & white): Colour
Country: Poland
Director: Piotr Subbotko
Producer: Lambros Ziotas
Cast: Bartłomiej Topa, Sandra Korzeniak, Andrzej Szeremeta, Ewa Dałkowska, Marta Zięba
Screenplay: Piotr Subbotko
Cinematographer: Wojciech Staroń
Editor: Witold Chomiński
Sound Designer: Piotr Domaradzki, Barbara Domaradzka
Music Composer: Paweł Szymański
Costume Designer: Barbara Sikorska-Bouffał
Production Designer: Joanna Hrisulidu, Tomasz Bartczak
Production Company : Argomedia Production, D35, Wajda Studio, Toya Studios, Studio Filmowe Wrocław
World Sales: The Moonshot Company
World Sales Phone: +33 (0) 1 83 92 85 34
World Sales Email: kasia@themoonshotcompany.com
Festival:
São Paulo International Film Festival 2018
Shanghai International Film Festival 2018
Polish Film Festival 2018
Selected Filmography:
Synek 2008
Glasgow 2010
A Hole in the Head 2018
Director's Biography:
Piotr Subbotko (b. 1968, Poland), is director and scriptwriter. He graduated from the Department of Theatre Studies at the National Academy of Dramatic Art in Warsaw and then studied at the Andrzej Wajda Master School of Film Directing in Warsaw. He directed and wrote the short Glasgow (2010), his first work.It received ten-odd awards at international film festivals. He has worked as a screenwriter on many acclaimed Polish films. A Hole in the Head, is his debut feature film. It was nominated for awards at Polish Film Festival in Gdynia, Shanghai Film Festival, and others.
Synopsis
An actor travels around the country with a theatre troupe. After many years he returns to his home village where his mother is dying and meets a kind of his double there. His effort to find out who and what that figure really is turns into a real obsession and leads to a surprising finale.