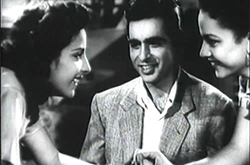 Original name: Amar
English name: Amar
Year: 1954
Run time: 149'
Language: Hindi
Type (Colour/ Black & white): Black & white
Country: India
Director: Mehboob Khan
Producer: Mehboob Khan
Cast: Dilip Kumar, Madhubala, Nimmi, Jayant
Screenplay: S. K. Kalla, Mehrish, B. S. Ramaiah, S. Ali Raza
Cinematographer: Faredoon A. Irani
Editor: Shamsudin Kadri
Music Composer: Naushad
Costume Designer: Fazal Din
Production Designer: V.H. Palnitkar
Production Company: Mehboob Productions
Festivals:
Selected Filmography:
Judgement of Allah 1935
Andaz 1949
Aan 1951
Amar 1954
Mother India 1957
Director's Biography:
Mehboob Khan was a pioneer, producer-director of Hindi cinema, best known for directing Mother India (1957), which won two Filmfare Awards and was a nominee for the Oscar for Best Foreign Language Film. He started as an assistant in the silent era in the studios of the Imperial Film Company of Ardeshir Irani, before directing his first film, Judgement of Allah (1935) Throughout his career, Khan produced and directed many blockbuster films, the most notable being Andaz (1949), Aan (1951), Amar (1954), Mother India (1957). He has directed 21 other films dating from the late 1930s.
Synopsis:
A delicately nuanced psychological drama, exploring a 3-way relationship between the main characters and the crisis of conscience that rocks it. A prosperous, well-respected lawyer, in love with and engaged to an educated, socially-conscious young woman, succumbs to a weak moment and rapes a poor local village milkmaid. The rest of the story deals with the aftermath of this tragic event, with all the inevitable undercurrents of guilt, penitence and pervasive heartbreak that stem from it.