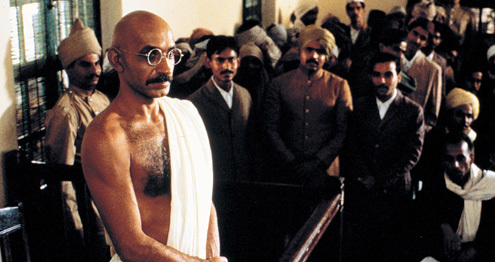 Original name: Gandhi
English name: Gandhi
Year: 1982
Run time: 191'
Language: English
Type (Colour/ Black & White): Colour
Country: India, USA, U.K
Director: Richard Attenborough
Producer: Richard Attenborough
Cast: Ben Kingsley, Rohini Hattangadi, Roshan Seth, Alyque Padamsee, Candice Bergen
Screenplay: John Briley
Cinematographer: Billy Williams, Ronnie Taylor
Editor: John Bloom
Sound Designer: Gerry Humphreys, Robin O'Donoghue, Jonathan Bates, Simon Kaye
Music Composer: Ravi Shankar, George Fenton
Costume Designer: John Mollo, Bhanu Athaiya
Production Designer: Stuart Craig
Production Company: Goldcrest Films, International Film Investors, NFDC, Indo-British Films
Festivals
Academy Awards, USA 1983
Golden Globes, USA 1983
BAFTA Awards 1983
David di Donatello Awards 1983
Selected Filmography:
1972 Young Winston
1977 A Bridge Too Far
1982 Gandhi
1992 Chaplin
1993 Shadowlands
1996 In Love and War
Director's Biography:
Baron Richard Attenborough CBE was an English actor, and filmmaker. He was the President of the Royal Academy of Dramatic Art (RADA) and the British Academy of Film and Television Arts (BAFTA). As a film director and producer, Attenborough won multiple awards, including two Oscars for Gandhi in 1983, receiving awards for Best Picture and Best Director. As a director, his films include award winning films like A Bridge Too Far (1977), and Chaplin (1992). As an actor, he is perhaps best known for his roles in The Great Escape, Miracle on 34th Street, and Jurassic Park.
Synopsis
Gandhi is the story of a complex man, a wise and wily politician who manoeuvred India to independence from imperial Britain while living the nonviolent, austere, communal life that was his impossible vision for all Indian society. It is a film that moves chronologically, episodically, from an unknown young barrister's catalytic collision with racial and cultural bigotry in turn-of-the century South Africa to the 1948 assassination in a Delhi garden of the man the world had come to know as the Mahatma – the 'Great Soul.' The story of Gandhi is also the story of more than half a century in the history of India – vast, tumultuous, squalid, glorious, seductive India.