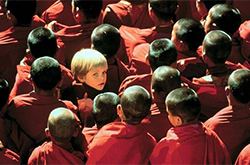 Original name: Little Buddha
English name: Little Buddha
Year: 1993
Run time: 141'
Language: English
Type (Colour/ Black & white): Colour
Country: France | Liechtenstein | UK
Director: Bernardo Bertolucci
Producer: Jeremy Thomas
Cast: Keanu Reeves, Ruocheng Ying, Chris Isaak, Alex Wiesendanger 
Screenplay: Bernardo Bertolucci, Rudy Wurlitzer, Mark Peploe
Cinematographer: Vittorio Storaro
Editor: Pietro Scalia
Music Composer: Ryuichi Sakamoto
Costume Designer: James Acheson
Production Designer: James Acheson
Production Company: Recorded Picture Company, Ciby 2000
World Sales: Miramax Films
World Sales Phone: 1 310 409 4321
World Sales Email: admin@miramax.com
Festivals:
Golden Camera Awards, Germany 1994
Selected Filmography:
Before The Revolution 1964
The Conformist 1970
Last Tango in Paris 1973
The Last Emperor 1987
Little Buddha 1993
The Dreamers 2003
Director's Biography:
Master of colourful visuals, Bernardo Bertolucci, was born in Parma, Italy. He served as assistant director for Pier Paolo Pasolini on the film Accattone (1961). He debuted with La Commare Secca (1962). His second film, Before the Revolution (1964), received an Oscar nomination for best screenplay. The Conformist (1970) won many accolades at festivals, including Berlinale. Bertolucci also received an Oscar nomination as best director for Last Tango in Paris (1972), and won the best director and best screenplay for the film The Last Emperor (1987). He is a recipient of Honorary Palm d'Or at Cannes 2011.
Synopsis:
Lama Norbu comes to Seattle in search of the reincarnation of his dead teacher, Lama Dorje. His search leads him to young Jesse Conrad, Raju, a waif from Kathmandu, and an upper class Indian girl. Together, they journey to Bhutan where the three children must undergo a test to prove which is the true reincarnation. Interspersed with this, is the story of Siddharta, later known as the Buddha. It traces his spiritual journey from ignorance to true enlightenment.