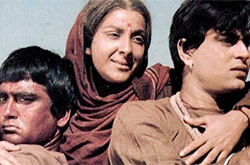 Original name: Bharat Mata
English Name: Mother India
Year: 1957
Run time: 172'
Language: Hindi-Urdu
Type (Colour/ Black & white): Colour
Country: India
Director: Mehboob Khan
Producer: Mehboob Productions
Cast: Sunil Dutt, Nargis, Rajendra Kumar, Raaj Kumar
Screenplay: Mehboob Khan
Cinematographer: Faredoon A. Irani
Editor: Shamsudin Kadri
Sound Designer: Kaushik
Music Composer: Naushad
Production Company: Mehboob Productions
Festivals:
Cannes IFF
Karlovy Vary IFF
Selected Filmography:
Judgement of Allah 1935
Andaz 1949
Aan 1951
Amar 1954
Mother India 1957
Director's Biography:
Mehboob Khan was a pioneer, producer-director of Hindi cinema, best known for directing Mother India (1957), which won two Filmfare Awards and was a nominee for the Oscar for Best Foreign Language Film. He started as an assistant in the silent era in the studios of the Imperial Film Company of Ardeshir Irani, before directing his first film, Judgement of Allah (1935) Throughout his career, Khan produced and directed many blockbuster films, the most notable being Andaz (1949), Aan (1951), Amar (1954), Mother India (1957). He has directed 21 other films dating from the late 1930s.
Synopsis:
This is story of Radha, a poor woman married to not so well to do Shyamu, a poor farmer. Her life is not easy, Shyamu's mother has leased their land produce to local loan shark Sukhilal in exchange of some money. Their lack of education has augmented the problem even more. Unable to bear this unpleasantness, Shyamu disappears, leaving Radha alone to bring up two sons, Ramu and Birju. While Ramu is dependable and devoted to his mother, Birju is arrogant and crass. Birju is against Sukhilal and would like him to turn the family's land over to them. Birju attacks Sukhilal and, as a result, is excommunicated from his village and turns into a bandit, bent on vengeance against the deceptive Sukhilal, much to the sorrow and dismay of his mother and brother. While Radha is hopeful that her love will make Birju mend his ways, Birju, on the other hand, is planning something quite the opposite.