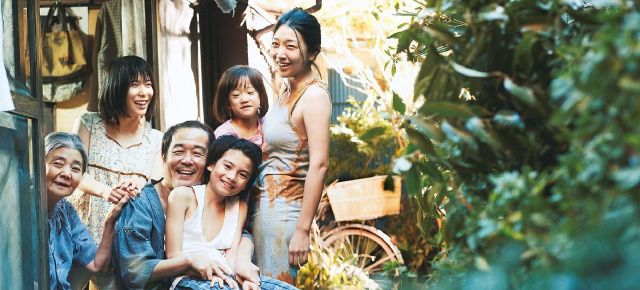 Original name: Manbiki kazoku
English name: Shoplifters
Year: 2018
Run time: 120'
Language: Japanese
Type (Colour/ Black & white): Colour
Country: Japan
Director: Kore-eda Hirokazu
Producer: Yose Akihiko, Taguchi Hijiri, Matsuzaki Kaoru
Cast: Lily Franky, Sakura Andô, Mayu Matsuoka, Jyo Kairi, Miyu Sasaki
Screenplay: Kore-eda Hirokazu
Cinematographer: Ryuto Kondo
Editor: Kore-eda Hirokazu
Sound Designer: Kazuhiko Tomita
Music Composer: Hosono Haruomi
Costume Designer: Kazuko Kurosawa
Production Designer: Mitsumatsu Keiko
Production Company: Aoi Pro. Inc.
World Sales: In2 Infotainment India
World Sales Phone: 9820307001
World Sales Email: narayan.srinivasan@gmail.com
Festivals
Cannes FF 2018
Palm Springs IFF 2019
Toronto IFF 2018
IFFI Goa 2018
Selected Filmography:
After Life 1998
Nobody Knows 2004
Like Father, Like Son 2013
Our Little Sister 2015
After the Storm 2016
The Third Murder 2017
Director's Biography:
Hirokazu Kore-eda is one of Japan's greatest auteurs, whose masterful works include Maborosi (1995), After Life (1998), and Nobody Knows (2004). His awards include a Golden Osella for Best Director during the 1995 Venice Film Festival , a Jury Prize for the 2013 Cannes Film Festival for Like Father, Like Son (2013), and a Silver Mirror Award for the film After the Storm (2016) at the Films from the South Festival. Oftentimes taking on roles as director, screenwriter, producer, and editor, Kore-eda's most recent accomplishments include winning the Palm d'Or at 2018 Cannes for Shoplifters (2018).
Synopsis
After one of their shoplifting sessions, Osamu and his son come across a little girl in the freezing cold. At first reluctant to shelter the girl, Osamu's wife agrees to take care of her after learning of the hardships she faces. Although the family is poor, barely making enough money to survive through petty crime, they seem to live happily together until an unforeseen incident reveals hidden secrets, testing the bonds that unite them…