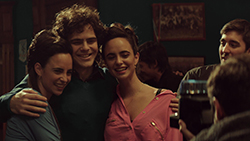 Original name: El Clan
English name: The Clan
Year: 2015
Run time: 110'
Language: Spanish
Type (Colour/ Black & white): Colour
Country: Argentina, Spain
Director: Pablo Trapero
Producer: Hugo Sigman, Matias Mosteirin, Esther García
Cast: Guillermo Francella, Peter Lanzani
Screenplay: Pablo Trapero, Esteban Student, Julian Loyola
Cinematographer: Julian Apezteguía
Editor: Pablo Trapero, Alejandro Carrillo Penovi
Sound Designer: Vicente D'Elia, Leandro de Loredo
Music Composer: Sebastián Escofet
Costume Designer: Julio Suárez
Production Designer: Sebastián Orgambide
Production Company: Kramer & Sigman Films, Matanza Cine Srl., El Deseo SA
World Sales: Film Factory Entertainment
World Sales Email: info@filmfactory.es
Festivals
Venice FF 2015
Toronto IFF 2015
Rotterdam IFF 2016
Hamburg IFF 2016
Selected Filmography:
Mundo Grúa 1999
Familia Rodante 2004
Leonera 2008
Carancho 2010
Elefante Blanco 2012

Director's Biography:

One of the prominent directors in Latin American cinema today, Pablo Trapero was born in Argentina in 1971. In 1999 he directed his first feature, Mundo Grúa, which won the Critics' Prize at Venice. His second feature, El Bonaerense (2002) premiered at Cannes, Familia Rodante (2004) at Venice, and Nacido y Criado (2006) at Toronto. Leonera (2008), presented in Competition at Cannes. He returned to Cannes with Carancho (2010), and Elefante Blanco (2012), both in Un Certain Regard. He has sat on the main Festival juries at Venice, San Sebastian and Locarno, among others.

Synopsis:

Buenos Aires in the early 1980s. To outsiders, the Puccios appear to be a typical middle-class family. In reality, however, patriarch Arquímedes Puccio runs his business with a grip of iron. The business itself is bleak and gruesome: kidnapping, ransom blackmail, murder. He gets unconditional support from his son Alejandro who seeks out suitable victims. As the star of Argentina's rugby team, Alejandro is above all suspicion and thus the ideal tool. When Alejandro begins to have doubts about the family business, however, the facade begins to crumble. The Clan is a sinister thriller based on one of Argentina's best-known criminal families.