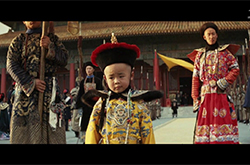 Original name: The Last Emperor
English name: The Last Emperor
Year: 1987
Run time: 163'
Language: English, Mandarin, Japanese
Type (Colour/ Black & white): Colour
Country: UK, Italy, China, France
Director: Bernardo Bertolucci
Producer: Jeremy Thomas
Cast: John Lone, Joan Chen, Peter O'Toole
Screenplay: Mark Peploe, Bernardo Bertolucci
Cinematographer: Vittorio Storaro
Editor: Gabriella Cristiani
Sound Designer: Ivan Sharrock, Bill Rowe
Music Composer: Ryuichi Sakamoto, David Byrne, Cong Su
Costume Designer: James Acheson
Production Designer: Ferdinando Scarfiotti,
Production Company: Recorded Picture Company, Hemdale, Yanco Films Limited, TAO Film.
World Sales: The Festival Agency
World Sales Phone: +33 9 54 90 48 63
World Sales Email: info@thefestivalagency.com
Festivals:
Academy Awards, USA 1988
Golden Globes, USA 1988
BAFTA Awards 1989
César Awards, France 1988
Selected Filmography:
Before The Revolution 1964
The Conformist 1970
Last Tango in Paris 1973
The Last Emperor 1987
Little Buddha 1993
The Dreamers 2003
Director's Biography:
Master of colourful visuals, Bernardo Bertolucci, was born in Parma, Italy. He served as assistant director for Pier Paolo Pasolini on the film Accattone (1961). He debuted with La Commare Secca (1962). His second film, Before the Revolution (1964), received an Oscar nomination for best screenplay. The Conformist (1970) won many accolades at festivals, including Berlinale. Bertolucci also received an Oscar nomination as best director for Last Tango in Paris (1972), and won the best director and best screenplay for the film The Last Emperor (1987). He is a recipient of Honorary Palm d'Or at Cannes 2011.
Synopsis:
A dramatic history of Pu Yi, the last of the Emperors of China, from his lofty birth and brief reign in the Forbidden City, the object of worship by half a billion people; through his abdication, his decline and dissolute lifestyle; his exploitation by the invading Japanese, and finally to his obscure existence as just another peasant worker in the People's Republic.