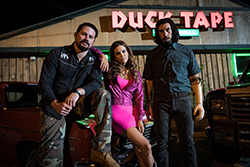 Original name: Vino Para Robar
English name: To Fool A Thief
Year: 2013
Run time: 105'
Language: Spanish
Type (Colour/ Black & White): Colour
Country: Argentina
Director: Ariel Winograd
Producer: Alejandro Zito, Nathalie Cabiron, Ricardo Freixá
Cast: Valeria Bertuccelli, Daniel Hendler, Pablo Rago, Martín Piroyansky, Juan Leyrado
Screenplay: Adrián Garelik
Cinematographer: Ricardo De Angelis
Editor: Francisco Freixa
Sound Designer: José Luis Díaz
Music Composer: Darío Eskenazi
Costume Designer: Mónica Toschi
Production Designer: Walter Cornás
Production Company: Tresplanos Cine, AZ Films, Jempsa
World Sales: Primer Plano Film Group Sa
World Sales Phone: 54 11 4552 1515
World Sales Email: primerplano@primerplano.com
Festivals
Lleida Latin-American FF 2014
Selected Filmography:
Los Suicidas 2006
Cara De Queso - Mi Primer Ghetto 2006
Mi Primera Boda 2011
Vino para robar 2013
Sin hijos 2016

Director's Biography:

Director, producer, and screenwriter, Ariel Winograd (b. 1977, Buenos Aires) made his debut as director with the short 100% Wool (1999), followed few more shorts, and a documentary. His debut feature was Cara de queso 'mi primer ghetto' (2006). He has made films such as Mi Primera Boda (2011), Vino Para Robar (2013), Sin hijos (2015) , Permitted (2016) and others. He has directed films, and series episodes for TV channels. Some of his films are big hits in Argentina, especially, Mamá se fue de viaje (2017) became the most watched Argentine film of the year.

Synopsis:

Sebastián and Natalia are two professional thieves who meet under peculiar circumstances: while both are trying to steal an important piece of art in a museum.

Declared rival from that moment on, they will further on need to work together to carry out a more complex theft: that of a valuable and unique bottle of mid-nineteenth century Malbec-Bordeaux, qualified as one of the best wines in the world, jealously guarded in the vault of a bank in Mendoza, Argentina. Across vineyards and mountains, in a glamorous environment, these specialists in high-end burglaries will need to deploy their magical skills. However, while preparing the coup both of them, separately, will discover nothing will turn out as planned.