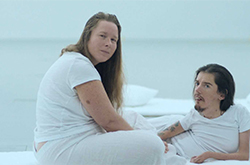 Original name: Touch Me Not
English name: Touch Me Not
Year: 2018
Run time: 125'
Language: English, German, Romanian
Type (Colour/ Black & white): Colour
Country: Romania, Germany, France, Bulgaria, Czech Republic
Director: Adina Pintilie
Producer: Bianca Oana, Philippe Avril, Adina Pintilie
Cast: Laura Benson, Tómas Lemarquis, Christian Beyerlein, Grit Uhlemann, Adina Pintilie, Hanna Hoffmann, Seani Love, Irmena Chichikova, Rainer Steffen, Georgi Naldzhiev, Dirk Lange, Annett Sawallisch
Screenplay: Adina Pintilie
Cinematographer: George Chiper-Lillemark
Editor: Adina Pintilie
Sound Designer: Dominik Dolejší
Music Composer: Ivo Paunov
Costume Designer: Maria Pitea
Production Designer: Andrey Tolstik
Production Company: Manekino Filmroh film Productions Gmbh pinkagitproples Films De L'étranger
World Sales: Doc & Film International
World Sales Phone: +33(0)1 42 77 56 87
Festival:
Toronto IFF
BFI London FF
Berlinale
São Paulo IFF
Karlovy Vary IFF
MAMI FF
Selected Filmography:
Don't Get Me Wrong (Doc) 2007
 
Oxigen (Doc) 2010
Diary #2 (short) 2013
Touch Me Not 2018 
Director's Biography:
Adina Pintilie graduated from the Caragiale University of Theatrical Arts and Cinematography in Bucharest in 2008. Some of her documentaries were largely appreciated. Her films have won several awards including the Zonta Prize at the 2013 International Short Film Festival Oberhausen for Diary #2. Poised on the border between fiction, documentary and fine art, her work is characterised by a highly individual visual style, the courage to experiment with visual language and an uncompromising exploration of the human psyche. Since 2010 she has been the curator of the Bucharest International Experimental Film Festival (BIEFF).
Synopsis
'Tell me how you loved me, so I understand how to love.'

Together, a filmmaker and her characters venture into a personal research project about intimacy. On the fluid border between reality and fiction, Touch Me Not follows the emotional journeys of Laura, Tómas and Christian, offering a deeply empathic insight into their lives. Craving for intimacy yet also deeply afraid of it, they work to overcome old patterns, defense mechanisms and taboos, to cut the cord and finally be free.

Touch Me Not looks at how we can find intimacy in the most unexpected ways, at how to love another without losing ourselves.