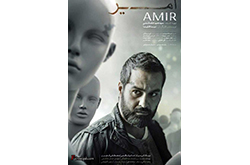 Original name: Amir
English name: Amir
Year: 2018
Run time: 106'
Language: Persian
Type (Colour/ Black & white): Colour
Country: Iran
Director: Nima Eghlima
Producer: Ziya Hashemi
Cast: Sahar Dolatshahi, Hadi Kazemi, Milad Keymaram
Screenplay: Nima Eghlima
Cinematographer: Adib Sobhani
Editor: Mastaneh Mohajer
Sound Designer: Amir Nobakht
Music Composer: Ali Azhari, Navid Arbabian
Production Designer: Sahar Shahamat
World Sales: Eli Image
World Sales Phone: +98 9125374139
World Sales Email: nobakht.e@gmail.com
Festivals
Karlovy Vary IFF 2018
Rabat Auteur IFF 2018
Adana FF 2018
Denver FF - Denver Film Society 2018
Selected Filmography:
Director's Biography:
Nima Eghlima was born in 1982 in the North of Iran, Golestan Province. He studied editing and dramatic literature to Master degree level. He directed the short films Rima, Voice Of The Foot, Root, and Passenger. He was the cinematographer for the short film Being A Woman. His most recent film Amirwas screened at Karlovy Vary IFF 2018.
Synopsis
Amir tries to be a good brother, son, and friend, but somehow he always finds himself embroiled in his loved ones' conflicts. Not only is his sister, desperately trying to leave their parents' home, and establish some kind of life for herself against their wishes, but his close friend is in a tailspin after realizing his ex-wife is planning to leave the country with their son. Amir has his own problems, so why does he continue to take on burdens that aren't his—including trying to locate his friend's child?
It's a story of a man—and, ultimately a country—suffocating under the weight of societal expectations and a foreboding sense that all his efforts to meet them will be futile in this bleakly urgent slice of social realism from Iran.