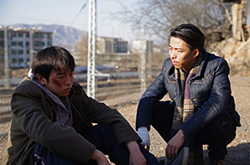 Original name: Da xiang xi di er zuo
English name: An Elephant Sitting Still
Year: 2018
Run time: 234'
Language: Chinese
Type (Colour/ Black & white): Colour
Country: China
Director: Hu Bo
Cast: Zhang Yu, Peng Yuchang ,Wang Yuwen, Liu Congxi
Screenplay: Hu Bo
Cinematographer: Chao Fan
Editor: Hu Bo
Music Composer: Hua Lun
Production Designer: Xie Lijia
World Sales: Rediance
World Sales Phone: +33 785804597
World Sales Email: meng@rediancefilms.com
Festival/Awards:
Berlinale 2018
Locarno IFF 2018
Toronto IFF 2018
Karlovy Vary IFF 2018
Taiwan Golden Horse IFF 2018
Selected Filmography
Night Runner (short) 2014
Distant Father (short) 2014
Man in the Well (short) 2017
Director's Biography:
Born in 1988, Hu Bo graduated from Beijing Film Academy's Directing Department. He had made a number of short films before he entered Golden Horse Film Academy.Hu also participated in the 2017 FIRST Training Camp, completing the short film Man in the Well under Béla Tarr's supervision. His debut feature An Elephant Sitting Still was selected in Berlinale and earned the GWFF Best First Feature Award as well as the FIPRESCI. As a novelist, he published a short story collection Huge Crack, and full-length novel Bullfrog in 2017. Hu Bo took his own life in 2017.
Synopsis
In the northern Chinese city of Manzhouli, they say there is an elephant that simply sits and ignores the world. Manzhouli becomes an obsession for the protagonists of this film, a longed-for escape from the downward spiral in which they find themselves. Among them is schoolboy Bu, on the run after pushing Shuai down the stairs, who was bullying him previously. Bu's classmate Ling has run away from her mother and fallen for the charms of her teacher. Shuai's older brother Cheng feels responsible for the suicide of a friend. And finally, along with many other characters whose fates are inextricably bound together, there's Mr. Wang, a sprightly pensioner whose son wants to offload him onto a home. In virtuoso visual compositions, the film tells the story of one single suspenseful day from dawn to dusk, when the train to Manzhouli is set to depart.