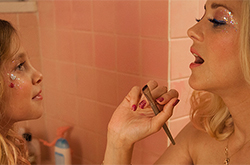 Original name: Gueule d'ange
English name: Angel Face
Year: 2018
Run time: 108'
Language: French
Type (Colour/ Black & white): Colour
Country: France
Director: Vanessa Filho
Producer: Carole Lambert, Marc Missonier
Cast: Marion Cotillard, Alban Lenoir, Amélie Daure, Ayline Aksoy-Etaix, Nade Dieu, Stephane Rideau, Stefano Cassetti
Screenplay: Vanessa Filho, Alain Dias
Cinematographer: Guillaume Schiffman
Editor: Sophie Reine
Sound Designer: Xavier Dreyfuss
Music Composer: Olivier Coursier, Audrey Ismael
Costume Designer: Ariane Daurat
Production Designer: Nicolas Migot
Production Company: Moana Films, Windy Production
World Sales: Playtime
World Sales Phone: +33 1 53 10 33 99
World Sales Email: info@playtime.group
Festival
Stockholm IFF 2018
Un Certain Regards - Cannes 2018
Camerimage IFF 2018
Selected Filmography
Primitifs (medium length) 2002
The Love Punch (short) 2013
Angel Face 2018
Director's Biography:
Vanessa Filho is a French videographer, screenwriter, musician and photographer. She started her career by making short films and documentaries. In 2004, she met with Simon Buret and Olivier Coursier. The two men decide to form the group AaRON and make the young woman responsible for their clips and their photos. In 2006, she made the video for U-Turn , a song that was very successful thanks to the film Je Vais Bien.
Synopsis
8-year-old Elli and her mother, Marlène, live in a small town by the French Riviera where they act out to relieve boredom and hide from social services. When Marlène caves in to yet another night of excess, she chooses to leave Elli behind for a man she just met. The young child must confront her mother's demons in order to get her back.