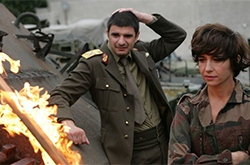 Original name: Îmiesteindiferentdacăînistorie vom intracabarbari"
English name: I Do Not Care If We Go Down in History as Barbarians
Year: 2018
Run time: 140mins
Language: Romanian
Type (Colour/ Black & white): Colour
Country: Romania / Czech Republic / France / Bulgaria / Germany
Director: Radu Jude
Producer:Ada Solomon
Cast: Ioana Iacob, Alexandru Dabija, Alex Bogdan, Ilinca Manolache, Serban Pavlu
Screenplay: Radu Jude
Cinematographer: Marius Panduru
Editor: Catalin Cristutiu, Carla Fotea, Dagmar Sperlova, Martin Bertier
Sound Designer: Dana Bunescu
Costume Designer: Iuliana Vilsan, Ciresica Cuciuc
Production Designer: Iuliana Vilsan
Production Company: Hi Film Productions
World Sales: Beta Cinema
World Sales Phone: +49 896 734 698 828
World Sales Email: beta@betacinema.com
Festival/Awards
TIFF 2018
Karlovy Vary IFF 2018
Bergen IFF 2018
Ghent IFF 2018
Hamburg IFF 2018
Selected Filmography:
The Happiest Girl in the World 2009
Film for Friends 2011
Everybody in Our Family 2012
Aferim! 2015
Scarred Hearts 2016
The Dead Nation (Doc) 2016
Director's Biography:
Radu Jude is a Romanian film director and screenwriter. Jude has directed over 100 advertising commercials. The Happiest Girl in the World (2009), his feature film debut, won the CICAE Prize at the Berlinale, the FIRESCI Prize at the Sofia IFF. Everybody in Our Family (2012) received the 'Heart of Sarajevo' Award and the Bayard d'Or in Namur, among other awards. Jude's acclaimed historical drama Aferim! (2015) premiered at the 65th Berlinale, where he won the Silver Bear award as 'Best Director.
Synopsis
A young artist is planning to reconstruct a historical event from 1941, during which the Romanian Army carried out ethnic cleansing on the Eastern Front.
One of contemporary Europe's most distinctive creators has come out with an ingeniously conceived film. While it unfolds slowly and in detail, it hits the viewer with a singular emotional punch.