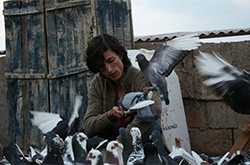 Original name: Comic Sans
English name: Cartoon Sans
Year: 2018
Run time: 103'
Language: Croatian, English
Type (Colour/ Black & white): Colour
Country: Croatia
Director: Nevio Marasovic
Producer: Ankica Juric Tilic
Cast: Janko Popović Volarić ,Zlatko Burić ,Nataša Janjić ,Miloš Timotijević
Screenplay:Nevio Marasovic
Cinematographer: Damir Kudin
Editor: Tomislav Pavlic
Sound Designer: Julij Zornik
Music Composer: Alen Sinkauz, Nenad Sinkauz
Costume Designer: Katja Šunjic Kudin
Production Designer: Iva Rodić
World Sales: Kinorama
World Sales Phone: 385 1 231 6787
World Sales Email: ankica@kinorama.hr
Festival
Raindance Film Festival 2018
Belgrade IFF 2018
Montenegro Film Festival 2018
Sombor Film Festival 2018
Alexandria IFF 2018
Selected Filmography
Fixing the Computer 2005
The Show Must Go On 2010
Vis-A-Vis 2013
Goran 2016
Director's Biography:
Nevio was writing ads for his mother's ad agency since he was 12. He made his first feature film at the age of sixteen. Age 19, he made his first TV commercial Durex Lunch, which, at the time, became a worldwide Internet hit. Since then, Nevio has shot over 150 TV commercials all over Europe. Along with his commercial work, Nevio has made films like The Show Must Go On (2010), Goran (2016) that have won many awards on national, and international stage. He is also the creatot of hit TV show Instruktor (2010) on Croation TV.
Synopsis
Graphic designer Alan boasts a very successful career. The same can't be said for his personal relationships, whether romantic, or the one with his father – hedonistic painter Bruno. Having tried in vain to win over his ex-girlfriend, Alan goes to the island of Vis. There, he finds himself torn between his eccentric father, another old flame, and her fiancé.