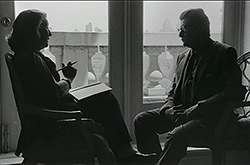 Original Name: Celebration
English Name: Celebration
Year: 2018
Run Time: 74'
Language: French
Type (Colour/ Black & White): Black & White
Country: France
Director: Olivier Meyrou
Producer: Bénédicte Couvreur , Christophe Girard
Cast: Yves Saint Laurent, Pierre Bergé, Catherine Deneuve
Screenplay: Olivier Meyrou
Cinematographer: Jean-Marc Bouzou , Florian Bouchet
Editor: Cathie Dambel
Sound Designer: Sébastien Savine
Music Composer: François-Eudes Chanfrault
Production Company: Hold Up Films
World Sales: Playtime
World Sales Phone: +33 1 53 10 33 99
World Sales Email: info@playtime.group
Festivals
Selected Filmography:
Beyond Hatred 2005
Parade 2013
Celebration 2018
Director's Biography:
Olivier Meyrou is a French filmmaker born in 1966. In 1993, he graduated from the producing department of La Fémis school. Then he went to New-York where he produced two documentaries. He has been part of several documentaries since then.
Synopsis
As Yves Saint Laurent, one of the greatest Parisian haute couture designers, draws the sketches for his final collection, behind the scenes, Pierre Bergé manages a series of events to celebrate the fashion icon as a modern myth. Immersed inside the couture house from 1998 to 2001, during YSL's final years there, documentary filmmaker Olivier Meyrou's camera films the YSL-Bergé duo.

The film was originally presented in the Panorama section of the 57th Berlinale in 2007. Pierre Bergé, cofounder of the Yves Saint Laurent Couture House, banned the public release of the documentary film during his living. The 2018 film is a re-edited version by the same director, Olivier Meyrou, to be released a decade after Yves Saint Laurent passed away.