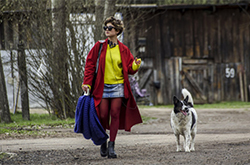 Original name: Khrustal
English name: Crystal Swan
Year: 2018
Run time: 93'
Language: English, Russian
Type (Colour/ Black & white): Colour
Country: Russia, USA, Germany, Belarus
Director: Darya Zhuk
Producer: Birgit Gernböck, Olga Goister, Debbie Vandermeulen, Valery Dmitrotchenko
Cast: Alina Nasibullina, Ivan Mulin, Yury Borisov, Svetlana Anikey, Ilya Kapanets
Screenplay: Helga Landauer
Cinematographer: Carolina Costa
Editor: Sergey Dmitrenko, Michal Leszczylowski
Sound Designer: Oliver Achatz
Music Composer: Andreas Lucas
Production Designer: Andrey Tolstik
Production Company: Demarsh Film
World Sales: Loco Films
World Sales Phone: +33 762 994 919
World Sales Email: florencia.gil@loco-films.com
Festival/Awards:
Karlovy Vary IFF 2018
BFI London FF 2018
Odessa IFF 2018
Cork IFF 2018
Bergen IFF 2018
Selected Filmography
The Air Inside Her (short) 2011
The Real American (short) 2015
What Doesn't Kill You (short) 2015
Like a Dream (doc.) 2016
Crystal Swan 2018
Director's Biography:
Belarus-born award-winning film director Darya Zhuk has been obsessing about filmmaking long enough to see her short films selected to SXSW, Tarkovsky, Oaxaca, Atlanta, Palm Springs, Koroche, Santa Fe Independent film festivals just to name a few. She is a graduate of Columbia University MFA program in Directing. Darya lives and creates between Minsk and Brooklyn. Crystal Swan is her feature debut .
Synopsis
In post-Soviet Belarus, unemployed DJ, Velya dreams of emigrating to the U.S. After purchasing blank letterhead and forging proof of employment to win a much-coveted visa, her dream appears within reach… Until Velya realises the American consulate plans to call the fake phone number on her application to confirm her employment. Velya's only solution is to endure a week in a small factory town to convince the authorities of her supposed job. She locates the cramped Soviet apartment on the other end of the line, overrun by a family preparing for the wedding of their son. The imperious mother refuses to lie for her, but Velya negotiates a solution: she can answer the phone during business hours as if she works at the factory. But Velya's presence soon upends both the family's and the town's order, with potentially disastrous consequences for all.