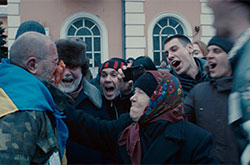 Original name: Donbass
English name: Donbass
Year: 2018
Run time: 121'
Language: Ukrainian, Russian
Type (Colour/ Black & white): Colour
Country: Germany - Ukraine - France - Netherlands - Romania
Director: Sergei Loznitsa
Producers: Heino Deckert
Cast: Boris Kamorzin, Valeriu Andriuta, Irina Plesnyaeva, Sergei Russkin
Screenplay: Sergei Loznitsa
Cinematographer: Oleg Mutu
Editor: Danielius Kokanauskis
Sound Designer: Vladimir Golovnitski
Production Designer: Kirill Shuvalov
Production Company: Ma.ja.de. Fiction, Arthouse Traffic, JBA Production, Graniet Film Wild at Art
World Sales: Pyramide International
World Sales Phone: +33142960220
World Sales Email: sales@pyramidefilms.com
Festivals:
Cannes 2018
Karlovy Vary IFF 2018
Toronto IFF 2018
BFI London FF 2018
Busan IFF 2018
Selected Filmography:
My Joy 2010
In The Fog 2012
Maidan 2014
A Gentle Creature 2017
Director's Biography:
Sergei Loznitsa was born in 1964 and grew up in Kiev, Ukraine. In 1987, he graduated in Applied Mathematics at the Ecole Polytechnique in Kiev and then worked as a researcher at the Institute of Cybernetics, specialized in Artificial Intelligence. In 1997, Sergei received his diploma at the Russian National Institute of Cinema, where he studied filmmaking. Since then, he has directed 18 documentaries, winning prizes all over the world, and 3 feature films, all selected in competition at the Cannes Film Festival. Donbass won him Best Director at Un Certain Regard at the 2018 Cannes Film Festival.
Synopsis
In the Donbass, a region of Eastern Ukraine, a hybrid war takes place, involving an open armed conflict alongside killings and robberies on a mass scale perpetrated by separatist gangs. In the Donbass, war is called peace, propaganda is uttered as truth and hatred is declared to be love. A journey through the Donbass unfolds as a chain of curious adventures, where the grotesque and drama are as intertwined as life and death. This is not a tale of one region, one country or one political system. It is about a world, lost in post-truth and fake identities. It is about each and every one of us.