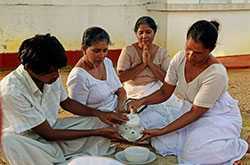 Original name: Paangshu
English name: Earth
Year: 2018
Run time: 86'
Language: Sinhalese/Sinhala
Type (Colour/ Black & white): Colour
Country: Sri Lanka
Director: Visakesa Chandrasekaram
Producer: Visakesa Chandrasekaram
Cast: Nita Fernand, Nadie Kammallaweera, Jagath Manuwarna, Randika Gunathilake, Saviour Kanishka
Screenplay: Visakesa Chandrasekaram
Cinematographer: Dimuthu Kalinga Dahanayake
Editor: Sithum Samarajeewa
Sound Designer: Aruna Kaluarachchi
Music Composer: Chinthaka Lakmal Jayakody
Costume Designer: Kumara Karawdeniya
Production Designer: Sithum Samarajeewa, Dimuthu Kalinga Dahanayake, Visakesa Chandrasekaram
Production Company: Havelock Arts Studios
World Sales: Havelock Arts Studios
World Sales Phone: +94 778 565 12
World Sales Email: visakea@hotmail.com
Festivals:
Selected Filmography:
Director's Biography:
Visakesa Chandrasekaram's debut film Frangipani was officially selected to more than 25 international film festivals winning several awards including the Best Foreign Film at 2015 Rio LGBT FF and Dr Lester James Peris Award at 2016 Sarasaviya Film Festival. Visakesa has worked in Sri Lanka as a human rights lawyer and in Australia as a consultant for the NSW Government. He has received a doctorate from the Australian National University for his research on the use of confessionary evidence under counter-terrorism laws. He currently works as a senior lecturer in the Faculty of Law in University of Colombo.
Synopsis
Babanona, a launderer belonged to one of the lowest castes in Sri Lanka is summoned to an identification parade where she identifies Lionel as one of the paramilitary men who abducted her son during the 1988/89 insurgency. While Indika, the young public prosecutor shows little or no interest in helping Babanorna finding her missing son, Namalee, the pregnant wife of the paramilitary man seeks forgiveness from the launderer. As the prolonging hearings in the dilapidated courthouse continues for months, shameful secrets are gradually unearthed by the defeated rebels, victorious soldiers and those who were crushed in between.