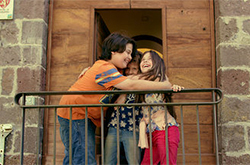 Original name: Mare Di Grano
English name: Freckles
Year: 2017
Run time: 81'
Language: Italian
Type (Colour/ Black & white): colour
Country: Italy
Director: Fabrizio Guarducci
Producer: Fabrizio Guarducci , Matteo Cichero , Michela Scolarim
Cast:   Ornella Muti , Sebastiano Somma , Paolo Hendel, Simona Borioni , Giacomo Valenti, Donatella Pompadour, Gabriele De Pascali, Ivo Romagnoli
Screenplay: Fabrizio Guarducci , Alessio Venturini
Cinematographer: Stefano Spiti
Editor: Maurizio Baglivo
Music Composer: Pino Donaggio
Production Designer: Esther Musatti
Production Company: Fair play
World Sales: Wide - Eye on Films
World Sales Phone: +33 1 53 95 04 64
World Sales Email: info@eyeonfilms.org
Festivals :
Durban IIFF 2018
Milan IFF Award 2018
Terra di Siena FF 2017
Selected Filmography
Director's Biography:
Since his time at University, Fabrizio Guarducci has always been interested in language, considering it the best instrument for the betterment of society and the individual. He's convinced that distancing ourselves from "toxic and violent words" carried with us for centuries, we can be free of its influences on our thoughts and our aggressive behaviour. Guarducci has always preferred to "educate" rather than to shape his students' minds in the field of communication. He has been a mentor, a producer, actor on many films and for number of students. Mare di Grano (2018) is his debut feature.
Synopsis
Adam is an eight-year-old, he moves among the hills and valleys of the Tuscan countryside until one day he mysteriously appears in a small town near Siena. Here he meets Arianna and Martino, two young adventure companions who will travel with him to the sea, the place where Adam "hopes to find his parents". The three children, accompanied by the inseparable Pina, Martino's duck, lead us through an adventurous journey, full of emotions, through the beauties of the Val d'Orcia, personifying the fairy tales and legends of their childhood. Their friendship develops together with their imagination, while they realize the surprises that nature offers us continuously. With the help of Rimando, a poet who goes from inn to inn with a child's heart, provoking emotions wherever he stops, will manage to reach the sea.