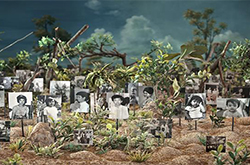 Original Name: Les Tombeaux Sans Noms
English Name: Graves Without A Name
Year: 2018
Run Time: 115'
Language: French, Cambodian
Type (Colour/ Black & White): Colour
Country: Cambodia, France
Director: Rithy Panh
Producer: Catherine Dussart
Cast: Randal Douc
Screenplay: Rithy Panh, Agnes Senemaud
Cinematographer: Rithy Panh, Prum Mesar
Editor: Rithy Panh
Sound Designer: Eric Tisserand, Vann Sereyrathanak, Julien Ngo Trong
Music Composer: Marc Marder
Production Company: CDP-Catherine Dussart Production, Arte France, Anupheap Production(KH) 
World Sales: Playtime
World Sales Phone: +33 1 53 10 33 99
World Sales Email: joris@playtime.group
Festivals
Venice IFF 2018
Toronto IFF 2018
Telluride 2018
Oslo Films from the South Festival 2018
Amsterdam International Documentary Film Festival 2018
Selected Filmography:
S21: The Khmer Rouge Death Machine 2003
Duch, Master of the Forges of Hell 2011
The Missing Picture 2013
Exile 2016
First, They Killed My Father 2018
Graves Without A Name 2018
Director's Biography:
Rithy Panh was born in Phnom Penh. As a child, he had to flee Cambodia, due to atrocities in the country. He managed to get to Thailand, and later, France. He is a graduate of Paris's La Fémis. His films Rice People(1994), S21: The Khmer Rouge Killing Machine (2003), The Sea Wall (2008), Duch, Master of the Forges of Hell (2011), and The Missing Picture (2013) were nominated, and won awards at prestigious festivals like Cannes, Venice, Toronto, and many others. His films are first Cambodian films to reach this height of appreciation.
Synopsis
After The Missing Picture, and Exile, Rithy Panh continues his personal and spiritual exploration. Graves Without A Name searches for a path to peace. When a thirteen-year-old child, who lost the greater part of his family under the Khmer Rouge, embarks on a search for their graves, whether clay or on spiritual ground, what does he find there? And above all, what is he looking for? Spectral trees? Villages defaced beyond recognition? Witnesses who are reluctant to speak? The ethereal touch of a brother or sister's body as the night approaches? A hesitant, but frank cinematic experience that reaches well beyond the story of a country for that which is universal.