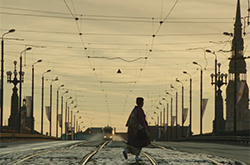 Original name: Maģiskais kimono
English name: Magic Kimono
Year: 2017
Run time: 102'
Language: Japanese
Type (Colour/ Black & white): Colour
Country: Japan , Latvia
Director: Maris Martinsons
Producer: Linda Krūkle, Jason Gray, Eiko Mizuno Gray
Cast: Kaori Momoi, Issei Ogata, Toms Liepajnieks, Ieva Florence
Screenplay: Māris Martinsons
Cinematographer: Gints Bērziņš, LGC
Editor: Māris Martinsons
Sound Designer: Aleksandrs Vaicahovskis
Music Composer: Osamu kitajima
Costume Designer: Baiba Ladiga – Kobayashi
Production Designer: Aivars Žukovskis, Hidefumi Hanatani
Production Company: Krukfilms
World Sales: Antipode Sales & Distribution
World Sales Phone: +7 916 027 26 49
World Sales Email: festivals@antipode-sales.biz
Festivals
Japan Film Festival San Francisco 2018
Selected Filmography:
Loss 2008
Amaya 2010
Christmas Uncensored 2013
Oki - In The Middle Of The Ocean 2014
Romeo N'juliet 2015
Director's Biography:
Maris Martinsons is an internationally awarded film director, screenwriter, editor and producer. He originally worked in the TV, creating TV shows, music videos and TV series. He has created over 10 original TV series. Martinsons' first feature film Loss travelled all round the world participating in numerous film festivals and official screenings. To have bigger freedom and independent feeling on the filming locations, Martinsons worked with passionate cast and crew from across the globe to make some impactful films like - Christmas. Uncensored (2013), Oki - In The Middle Of The Ocean (2014).
Synopsis
Sixty-something Keiko has been living in a shell since losing her daughter, and then her husband, decades ago. Unable to move on from the past, the modest act of eating, and the sensations it provides, are the only lifeline Keiko has. She reluctantly joins a group of Japanese women traveling to Northern Europe to participate in a kimono show in the fairytale-like art nouveau world of Riga. During the show, Keiko is suddenly confronted by a man who seems to be her long lost husband, who went missing in the Kobe earthquake of 1995. Gripped by confusion and despair, Keiko walks through the city and has chance meetings with people who seem drawn to this curious, kimono-clad woman and her culinary sensibility. Food bridges the language and culture gap, and with her husband at her side once again, Keiko gradually realises how to have a future with the past.