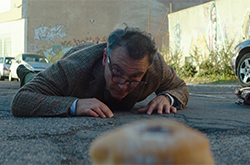 Original Name: Nevermind
English Name: Nevermind
Year: 2018
Run time: 110'
Language: Italian
Type (Colour/ Black & white): Colour
Country: Italy
Director: Eros Puglielli
Producer: Daniele Tomassetti, Fabio Tomassetti, Gianluca Curti, Eros Puglielli, Antonio Muoio, Riccardo Mancini, Danilo Acitorio
Cast:   Paolo Sassanelli, Andrea Sartoretti, Giulia Michelini, Massimo Poggio, Alberto Molinari, Lucia Gravante, Gualtiero Burzi, Renato Scarpa, Pia Engleberth, Aurore Erguy,
Screenplay: Giulia Gianni, Eros Puglielli, Antonio Muoio, Francesca Sambataro
Cinematographer: Alfredo Betrò
Editor: Danilo Perticara
Sound Designer: Thomas Giorgi
Music Composer: Alessandro Sartini, Eros Puglielli
Costume Designer: Monica Celeste, Monica Trappolini
Production Designer: Emanuela Zappacosta, Gianmaria Cau
Production Company: Déjà Vu Production, Minerva Pictures, Monkey King Pictures
World Sales: Minerva Pictures Group [Italy]
World Sales Phone: +3906 84242430
World Sales Email: f.delise@minervapictures.com
Festival:
Selected Filmography
Il Pranzo Onirico 1997
Effetto Placebo 1996
All The Knowledge In The World 2001
Eyes Of Crystal 2004
AD Project 2006
Director's Biography:
Eros Puglielli was born on May 17, 1973 in Rome, Lazio, Italy. He is a director and writer, known for Il pranzo onirico (1997), Dorme (1995) and, Effetto placebo (1996). He is a veteran television, film, and video director from Italy. His works have been at the receiving end of much audience appreciation, critics' praise. His works have been showcased in multiple festivals in Europe, and America.
Synopsis
Nevermind is an episodic comedy film. In each episode, we see common characters forced to suffer extremely weird, disturbing and paradoxical situations. These situations sometimes seem incredible but yet... can happen. The lives of five people are distorted by disconcerting and paradoxical events. An attorney with a deplorable habit; a babysitter grappling with a disturbing new job; an old childhood friend from the murky present; a cook with an unspeakable desire, and a psychologist persecuted by a tow truck. Five stories linked by a red thread of madness and human aberration, which leads the protagonists to extreme and unpredictable choices.