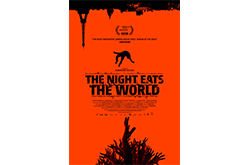 Original Name: La Nuit A Dévoré Le Monde
English Name: Night Eats The World
Year: 2018
Run Time: 94'
Language: English, French
Type (Colour/ Black & White): Colour
Country: France
Director: Dominique Rocher
Producer: Carole Scotta
Cast: Anders Danielsen Lie, Golshifteh Farahani, Denis Lavant
Screenplay: Jérémie Guez, Guillaume Lemans, Dominique Rocher
Cinematographer: Jordane Chouzenoux
Editor: Isabelle Manquillet
Sound Designer: Maxence Dussère
Music Composer: David Gubitsch
Costume Designer: Caroline Spieth
Production Designer: Jordane Chouzenoux
Production Company: Haut et Court
World Sales: Les Films du Losange
World Sales Phone: +33 1 44 43 87 10
World Sales Email: a.lesort@filmsdulosange.fr
Festivals :
Tribeca FF 2018
Rotterdam IFF 2018
Molins de Rei Horror Film Festival 2018
CPH:PIX 2018
Selected Filmography
Haiku (Short) 2009
The Speed Of The Past (Short) 2011
Night Eats The World 2018
Director's Biography:
Dominique Rocher is a filmmaker from France. When he got out of film school, he started to work as an assistant director on several features. Later, he founded the production company Buffalo Corp., with which he made his first short films. He also won the Audi Talents Awards program, which enabled him to make the short Sci-Fi drama, The Speed of the Past (2011) with renowned actress Mélanie Thierry. Besides his new film The Night Eats the World (2018), Rocher is currently developing a mini-series.
Synopsis
A busy party in a Paris townhouse. Sam says goodbye to his ex-girlfriend and then wants to get out as fast as possible – but not without his music collection, which is still in the office. So he decides to wait until things have calmed down. But this poor twenty-something has no chance.

When he wakes up the next day and unlocks the door, it turns out all the party guests have been transformed into bloodthirsty zombies. Along with the rest of the French capital, where the last normal people are dying in the streets. Sam is relatively safe indoors. He locks the snappy-jawed undead in their apartments – the rest of the chic building becomes his own private island, crammed with food and survival tools. But how long can he stand the silence and solitude?