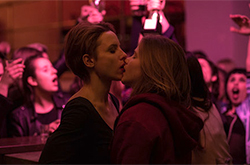 Original name: Nina
English name: Nina
Year: 2018
Run time: 130'
Language: Polish
Type (Colour/ Black & white): colour
Country: Poland
Director: Olga Chajdas
Producer: Dariusz Pietrykowski
Cast: Julia Kijowska, Eliza Rycembel, Andrzej Konopka, Maria Peszek
Screenplay: Olga Chajdas, Marta Konarzewska
Cinematographer: Tomasz Naumiuk
Editor: Kasia Adamik
Music Composer: Andrzej Smolik
Costume Designer: Katarzyna Lewinska
Production Designer: Anna Anosowicz
Production Company: Film It
World Sales: Wide- Eye on Films
World Sales Phone: +33 1 53 95 04 64
World Sales Email: info@eyeonfilms.org
Festivals :
Rotterdam IFF 2018
Camerimage Festival 2018
São Paulo IFF 2018
Moscow IIFF 2018
Munich IFF 2018
Selected Filmography
3xlove 2016
Morning Has Broken 2017
Nina 2018
Director's Biography:
Olga Chajdas was born in 1983 in Poznan, Poland. She graduated in Film Production at the Lodz Film School. In 2009 she completed courses in Andrzej Wajda's School of Film Directing. Olga started working as an Assistant Director. Among her work is Oscar nominated In darkness by Agnieszka Holland. She has directed plays for theatre, award winning television series The Deep End. Her short 3xLove won Grand Prix at Distances Short Film Festival in Dublin and Morning Has Broken was premiered at Raindance Festival 2017. Nina is Olga's full-length feature debut.
Synopsis
After twenty years, Nina's marriage to Wojtek is going nowhere, partly because of their failed attempts to have children. When they meet a young woman, Magda, they decide to propose that she become a surrogate mother for their child. The energetic, apparently carefree Magda breaks open Nina's world. But things get more complicated when Nina suddenly feels attracted to Magda.