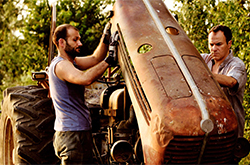 Original Name: Veleno
English Name: Poison - The Land Of The Fires
Year: 2017
Run Time: 103'
Language: Italian | Neapolitan
Type (Colour/ Black & white): Colour
Country: Italy
Director: Diego Olivares
Producer: Gaetano Di Vaio, Gianluca Curti, Nando Mormone
Cast: Massimiliano Gallo, Salvatore Esposito , Luisa Ranieri
Screenplay: Diego Olivares
Cinematographer: Andrea Locatelli
Editor: Davide Franco
Sound Designer: Simone Chiossi
Music Composer: Enzo Gragnaniello, Marco Messina, Sasha Ricci
Costume Designer: Rossella Aprea
Production Designer: Antonio Farina
Production Company: A Bronx Film Production, Minerva Pictures Group And Tunnel Produzioni
World Sales: Minerva Pictures
World Sales Phone: +39 06 84 24 24 30
World Sales Email: f.delise@minervapictures.com

Festival:
Busan IFF 2017
Venice IFF 2017
Bari IFF2018
Los Angeles - Italia 2018
Selected Filmography:
Wild Boars Of Portici 2004
Poison - The Land Of The Fires 2017
Director's Biography:
Diego Olivares (1965) is a Neapolitan director, scriptwriter and writer. After making some short films, he dedicated himself to the documentary on the dismissal of the psychiatric hospital Frullone di Napoli, The Last Days Of Frullone -Cronache From An Asylum in 2000. His first feature film, Wild Boars of Portici, dates back to 2003. In 2014 he directed the short Canemalato , produced by Sons of the Bronx for Sky Cinema.
Synopsis
In a small centre of Caserta, a humble family of farmers lives the drama of a territory violated, contaminated by poisons that unscrupulous criminals have scattered throughout most of that province. Cosimo, the head of the family, and his wife Rosaria obstinately refuse to let their land become a dump for toxic waste: the threats and repercussions by some members of the Camorra (mafia syndicate), including the young lawyer Rino, do not bend them. The two spouses do not want to break away from their roots and their land entirely dominated by a mafia power that corrupts and destroys. Ezio, Cosimo's brother, and his wife, however, accept, attracted by easy money, to be accomplices of the devastation of their territories. To complicate matters further is the serious illness of Cosimo caused by the poison that contaminates water, crops, livestock.

A fight between David and Goliath, the common man versus corrupt power shows the struggle that resonates to everyone around the globe.