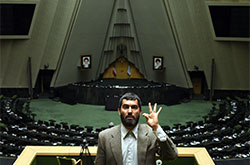 Original name: Marmouz
English name: Sly
Year: 2018
Run time: 90'
Language: Farsi
Type (Colour/ Black & white): Colour
Country: Iran
Director: Kamal Tabrizi
Producer: Javad Norouzbeigi
Cast: Hamed Behdad, Vishka Asayesh, Azadeh Samadi, Mani Haghighi
Screenplay: Aidin Sayar Sarie
Cinematographer: Ali Tabrizi
Editor: Sohrab Khosravi
Sound Designer: Bahman Ardalan
Music Composer: Bamrani Band
Costume Designer: Shideh Mahmoud Zadeh
Production Designer: Behzad Adineh
Production Company: Ghab-e Aseman
World Sales: Irimage
World Sales Phone: 0098 9123093397
World Sales Email: kamyar@irimageco.com
Festivals:
Selected Filmography:
The Passage 1988
Leily Is With Me 1995
The Lizard 2004
Calm Streets 2011
Sweet Taste of Imagination 2015
Director's Biography:
Kamal Tabrizi is an Iranian film director. He was born in Tehran. He is a graduated from Tehran University of Art at Faculty of Cinema and Theater. He began his career with directing, writing and editing short films in 1980. His first professional experience was assistant directing in Hatamikia's Identity. He is teaching film making and is famous for his films The Lizard, and Leily is with Me. These two films, Leily is With Me, and The Lizard are considered revolutionary in Iranian cinema world.
Synopsis
The film is a satirical comedy based on current Iranian politics, with hilarious actions by impulsive characters. Samadi is a busy right-wing activist, making trouble with everyone and taking on roles no one asked of him. He is shouting out slogans and making speeches, and is constantly berating young people—that hijab is crooked, your hair is too long—because he can't bear to see western culture creeping in. Reckless activist Samadi's big dream is to become a congressman to share his political philosophy. Then he gets lucky. When Samadi is causing a scene in an attempt to disrupt a rock concert attended by famous politicians, a bomb goes off. Suddenly Samadi is a hero who saved 300 civilians, and now all politicians want him on their side. The Reformist party makes him their face for the new election, and to make his dream come true, Samadi becomes even more brazen. The havoc he wreaks reminds us of an actual famous politician in Iran. You will be surprised at this funny, witty, and warm Iranian comedy.