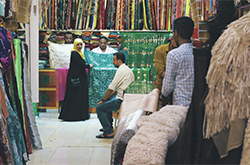 Original Name: Ten Days Before The Wedding
English Name: Ten Days Before The Wedding
Year: 2018
Run Time: 120'
Language: Arabic
Type (Colour/ Black & White): Colour
Country: Yemen
Director: Amr Gamal
Producer: Mohsen Alkhalifi ,Amr Gamal
Cast:  Sali Hamada, Khaled Hamdan, Bakar Bashraheel , Abeer Abdul Karim,
Screenplay: Mazen Refaat
Cinematographer: Aimen Almekhlafi
Editor: Aimen Almekhlafi
Sound Designer: Maher Alsharjabi
Music Composer: Salem Fadaq
Costume Designer: Abeer Abdul Kareem, Huda Ramzi
Production Designer: Amr Gamal
Production Company: Adenium productions
World Sales: Amr Gamal
World Sales Email:amr.ahmed@gmail.com
Selected Filmography:
Ten Days Before The Wedding 2018
Director's Biography:
Amr Gamal, Yemeni director and writer, was born in Posnan, Poland 1983. He started his career as a short story writer then later switched to writing and directing theatre plays. He received the trophy of the president for best theatrical script in Yemen, becoming the youngest to win it. In 2010, Amr added television directing to his list of achievements, offering a number of TV series while also focusing on theatre activity. In August 2018, his movie "10 Days before the Wedding" was premiered to be the first Yemeni commercial movie to ever hit the local theatre.
Synopsis
As life slowly returns to normal in the recently freed city of Aden, A number of obstacles stands in the way of a young couple as only 10 days are left for their wedding, each obstacle is in one way or another caused by the aftermath of the 2015 war in Aden; today's temporary capital of Yemen.