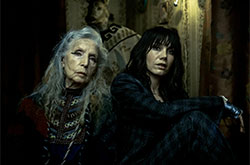 Original name: Człowiek Z Magicznym Pudełkiem
English name: The Man With The Magic Box
Year: 2017
Run time: 103'
Language: Polish
Type (Colour/ Black & white): Colour
Country: Poland
Director: Bodo Kox
Producer: Izabela Igel, Roman Jarosz
Cast: Piotr Polak, Olga Bołądź, Sebastian Stanki Stankiewicz, Helena Norowicz
Screenplay: Bodo Kox
Cinematographer: Arkadiusz Tomiak, Dominika Danilczyk
Editor: Milenia Fiedler
Sound Designer: Ignazio Vellucci
Music Composer: Sandro Di Stefano
Costume Designer: Katarzyna Adamczyk
Production Designer: Wojciech Żogała
Production Company: Alter Ego Pictures, Vargo Films
World Sales: Reel Suspects
World Sales Phone: + 33 1 58 51 42 95
World Sales Email: m@reelsuspects.com
Festivals:
Busan IFF
Filmpolska
Trieste Science+Fiction FF
Minsk IFF
Utopiales FF
Selected Filmography:
Marco P. And The Bike Thieves (short) 2005
The Look-Alike 2005
Don't Panic 2007
The Man With The Magic Box 2017
Director's Biography:
A director, scriptwriter, performer. He has completed Journalism at the University of Wrocław and the "Studio Prób" at the Wajda's School. He studied Directing at the Leon Schiller PWSFTViT in Łódź. He is considered among the most important and expressive authors of the Polish independent cinema, where he gained the nickname of "off icon" and brought numerous awards. "The Girl from the Wardrobe", his debut film, a transition from "off" to "mainstream", gained critics appreciation and many festival awards. The movie was selected to East of The West Competition in Karlovy Vary IFF.
Synopsis
In a not so distant dystopian future Adam escapes from poor part of Warsaw to the New City. With a help of a secret society Adam gets a flat in an old building and finds a job as a cleaner. He falls in love with Goria, a beautiful employee in the HR department, but she doesn't treat him seriously.
In his flat Adam finds a radio from the 1950's that broadcasts the beautiful music from the past. The radio also emits the Theta waves that facilitate time travel. Adam starts to experiment with the Theta waves and he gets stuck in the past. When he doesn't show up for work, Goria – realising that she has lost true love – starts to look for him in the past.