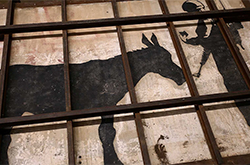 Original Name: The Man Who Stole Banksy
English Name: The Man Who Stole Banksy
Year: 2018
Run Time: 93'
Language: Arabic, English, Italian
Type (Colour/ Black & White): Colour
Country: Italy
Director: Marco Proserpio
Producer: Marco Proserpio, Filippo Perfido
Cast: Iggy Pop (Narrator)
Screenplay: Marco Proserpio, Filippo Perfido, Christian Omodeo
Cinematographer: Jacopo Farina
Editor: Domenico Nicoletti
Sound Designer: Matteo Pansana
Music Composer: Federico Dragogna, Matteo Pansana
Production Company: Sterven Pictures
World Sales: Elle Driver
World Sales Phone: +33 1 56 43 48 70
World Sales Email: sales@elledriver.eu

Festivals
Tribeca FF 2018
Vancouver IFF 2018
São Paulo IFF 2018
Sarajevo FF 2018
Torino FF 2018
Selected Filmography:
The Man Who Stole Banksy ( Doc) 2018
Director's Biography:
Italian director Marco Proserpio has been involved in film, television and advertising since the age of 20, when he started working at MTV Italia. Soon after leaving MTV he started directing for television, short films and commercials. His corporate clients include Pirelli, Campari, Jeep, Diesel, Sony. Since 2010 he has directed tons of music videos for Italian designers, brands and artists. In November 2016, Proserpio directed the film short The Story Of Our Guardians. His most recent projects include the short film Golden Age, a web series for the Museum of Louvre.
Synopsis
It is 2007. Banksy and his team enter Bethlehem and the occupied territories of Palestine and start to leave their signature artwork across the West Bank walls. But something went wrong. Among the artworks Banksy and his team left in the streets of Bethlehem, one in particular, the mural of an Israeli soldier asking a donkey for its papers incites fury.

Local taxi driver Walid steps in and with the support of the community and a waterjet stone cutter cuts out the offending wall. His declared aim: to put it on Ebay and sell it to the highest bidder. We follow the journey of that big piece of concrete from the dusty streets of Bethlehem, across the ocean, to posh western auction houses, where it is put on sale to private collectors. In a sense, that wall is our central character and through it we discover a much larger story, that of a secret art market of walls, stolen from around the world.