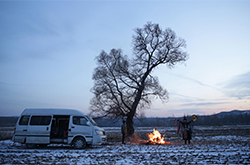 Original name: Xiao gua fu cheng xian ji
English name: The Widowed Witch
Year: 2018
Run time: 118'
Language: Mandarin
Type (Colour/ Black & white): Colour
Country: China
Director: Cai Chengjie
Producer: Jiao Feng, Hu Xiaotao
Cast: Tian Tian, Wen Xinyu, Wang Qilin, Wang Fuyou, Yang Shuyou, Gao Pengcheng, Li Wenfu, Zhao Shulin
Screenplay: Cai Chengjie
Cinematographer: Jiao Feng
Editor: Li Cheng
Sound Designer: Ren Yiming
Music Composer: Jin Weiye, Li Qiang
Production Designer: Li Zhengzong, Hu Xiaotao
Production Company: Beijing Glazed Sky Production
World Sales: Rediance
World Sales Phone: +33 785804597
World Sales Email: info@rediancefilms.com
Festival:
Roterdam IFF
Hong Kong IFF
Las Palma IFF
Buenos Aires International Festival of Independent Cinema
Jeonju IFF
Seattle IFF
New Horizons IFF
Melbourne IFF
Pacific Meridian IFF
Cork IFF
Goa IFF
Selected Filmography
Director's Biography:
Cai Chengjie (Director, Writer) Cai Chengjie was born on February 12th, 1980 in Pingquan, Hebei. He graduated from Shaanxi Technology University, and majored in Art Design. He worked as a TV show director in China Central Television's (CCTV) CTV North. He also worked in CCTV- 12's The Columns Show. The Widowed Witch is his directorial debut.
Synopsis
Living in a rural town in China, Erhao finds herself widowed for the third time after a fireworks accident kills her husband and injures her. After her brother-in-law attacks her, she realizes she can no longer stay at the home of her in-laws, and leaves in search of starting a life of her own. Erhao is widely deemed inauspicious and even cursed in the eyes of the villagers, who during these cold winter months, are unwilling to share their home or help her find proper food and shelter. Having no one to depend on but herself, she soon discovers she has magical powers that she can use to her advantage, gaining social power and importance by helping the villagers with their own life problems. Erhao instantly becomes the town's famous shaman, and uses her special skills to make a living. Yet as she helps the village people with their issues day after day, she finds it increasingly impossible to satisfy the need and greed of the community.