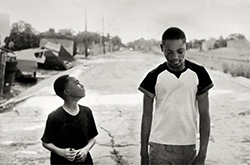 Original name: What You Gonna Do When the World's on Fire?
English name: What You Gonna Do When the World's on Fire?
Year: 2018
Run time: 123'
Language: English
Type (Colour/ Black & white): Black & White
Country: Italy, USA, France
Director: Roberto Minervini
Producer: Paolo Benzi, Denise Ping Lee, Roberto Minervini
Cast: Judy Hill, Ronaldo King, Titus Turner, Kevin Goodman
Screenplay: Roberto Minervini
Cinematographer: Diego Romero Suárez-Llanos 
Editor:  Marie-Hélène Dozo
Sound Designer: Bernat Fortiana Chico
Production Company: Okta Film, Pulpa Film, Rai Cinema, Shellac Sud
World Sales: The Match Factory
World Sales Phone: +49 221 539 709-0
World Sales Email: info@matchfactory.de
Festivals
Venice Film Festival 2018
Toronto IFF 2018
São Paulo IFF 2018
BFI London Film Festival 2018
Selected Filmography:
Voodoo Doll 2005
Las Luciernagas 2006
The Passage 2011
Low Tide 2012
Stop The Pounding Heart 2013
The Other Side (Louisiana) 2015
Director's Biography:
Roberto Minervini (Fermo, Italy) is a film director, screenwriter, and author. His three feature films, The Passage, Low Tide, and Stop the Pounding Heart, were presented and awarded at some of the most renowned film festivals in the world such as Cannes, Venice, Toronto, and Rotterdam, among others. The Other Side (Louisiana), his fourth film, premiered at the Cannes Film Festival, competing in the Un Certain Regard section in 2015. His documentary film, What You Gonna Do When the World's on Fire? won many awards at festivals like Venice, Toronto, and BFI London.
Synopsis
What You Gonna Do When the World's on Fire? is the story of a community of black people in the American South during the summer 2017, when a string of brutal killings of young African American men sent shockwaves throughout the country. A meditation on the state of race in America, this film is an intimate portrait into the lives of those who struggle for justice, dignity, and survival in a country not on their side.