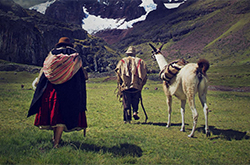 Original name: Wiñaypacha
English name: Eternity
Year: 2017
Run time: 87'
Language: Aymara
Type (Colour/ Black & White): Colour
Country: Peru
Director: Oscar Catacora
Producer: Tito Catacora (Cine Aymara)
Cast: Rosa Nina, Vicente Catacora
Screenplay: Oscar Catacora
Cinematographer: Oscar Catacora
Editor: Irene Cajías
Sound Designer: Rosa María Oliart
Production Designer: Hilaria Catacora
Production Company: Cine Aymara
World Sales: Quechua Films
World Sales Phone:+34 653897397
World Sales Email: sales@quechuafilms.com
Festival/Awards
Guadalajara FICG 2017
Autoctone Presence film festival 2018
Hall of Light film festival 2018
Trujillo film festival 2018
Montreal First Peoples Festival 2018
Selected Filmography:
The Path Of The Pimp (short) 2007
Eternity 2017
Director's Biography:
A strong new artistic voice from Latin America, the award-winning artist Oscar Catacora is a self-taught filmmaker from Peru. He began his career as an audiovisual producer at age 17 and went on to develop short and mid-length experimental films. The Path of The Pimp (2007), was his experimental middle length film in which he has also acted. He has a degree in Social Communication Sciences and has studies in Art in the specialty of Theatre of the National University of Puno AltiplanoEternity (2017) is his debut feature.
Synopsis
Isolated in the Andean mountain at more than 5,000 meters above sea level, Willka and Phaxsi, an old Aymara couple, are struggling day by day against age, bad weather and the passage of time. While waiting for the return of their only son, only the eternity of the peaks remains to them.

This is the story of Willka and Phaxsi, an elderly couple of more than eighty years of age living in a remote part of the Andes of Peru, more than five thousand meters high. They face the misery and the passing of time, praying to their gods so that they are only able to rescue them.

This is the first film to be made in Aymara language of Peruvian mountain areas.