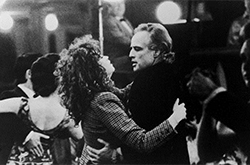 Original name: Ultimo tango a Parigi
English name: Last Tango in Paris
Year: 1972
Run time: 129'
Language: French, English
Type (Colour/ Black & White): Colour
Country: France, Italy
Director: Bernardo Bertolucci
Producer: Alberto Grimaldi
Cast: Marlon Brando, Maria Schneider, Maria Michi, Jean-Pierre Léaud, Catherine Breillat
Screenplay: Bernardo Bertolucci, Franco Arcalli, Agnès Varda, Jean-Louis Trintignant
Cinematographer: Vittorio Storaro
Editor: Franco Arcalli, Roberto Perpignani
Sound Designer: Antoine Bonfanti
Music Composer: Gato Barbieri
Costume Designer: Gitt Magrini
Production Designer: Philippe Turlure
Production Company: Les Productions Artistes Associés, Produzioni Europee Associate
World Sales: Park Circus Group
World Sales Phone: 44 141 332 2175
World Sales Email: info@parkcircus.com
Festivals:
Academy Awards, USA 1974
Golden Globes, USA 1974
David di Donatello Awards 1973
BAFTA Awards 1974
Selected Filmography:
Before The Revolution 1964
The Conformist 1970
Last Tango in Paris 1973
The Last Emperor 1987
Little Buddha 1993
The Dreamers 2003
Director's Biography:
Master of colourful visuals, Bernardo Bertolucci, was born in Parma, Italy. He served as assistant director for Pier Paolo Pasolini on the film Accattone (1961). He debuted with La Commare Secca (1962). His second film, Before the Revolution (1964), received an Oscar nomination for best screenplay. The Conformist (1970) won many accolades at festivals, including Berlinale. Bertolucci also received an Oscar nomination as best director for Last Tango in Paris (1972), and won the best director and best screenplay for the film The Last Emperor (1987). He is a recipient of Honorary Palm d'Or at Cannes 2011.
Synopsis:
He is a 45-year old American living in Paris, haunted by his wife's suicide. She is a 20-year-old Parisian beauty engaged to a young filmmaker. Though nameless to each other, these tortured souls come together to satisfy their sexual cravings in an apartment as bare as their dark, tragic lives. Caught up in the frenzied beat of a carnal dance they cannot seem to stop, these unlikely lovers take their passion to erotic heights and depths beyond anything they could ever have imagined.