Original Name: Baradaran-E Leila
English Name: Leila's Brothers
Year: 2022
Run Time: 165 min
Language: Persian
Type (Colour/ Black & White): Colour
Country: Iran
Director: Saeed Roustaee
Producer: Javad Noruzbegi, Saeed Roustaee
Cast: Taraneh Alidoosti, Navid Mohammadzadeh, Payman Maadi, Farhad Aslani, Mohammad Alimohammadi, Saeed Poursamimi
Screenplay: Saeed Roustaee
Cinematographer: Hooman Behmanesh
Editor: Bahram Dehghani
Sound Designer: Iraj Shahzadi, Rashid Daneshmand, Amirhosein Ghasemi
Music Composer: Ramin Kousha
Production Company: Skyframe
World Sales: Impact

Festivals:
Cannes FF
São Paulo IFF
Melbourne IFF
Busan FF
Director's Selected Filmography:
2019 Just 6.5
2016 Life and a Day
2014 Empty Street (Short)
2012 Ceremony (Short)
2011 Saturday (Short)
Director's Biography: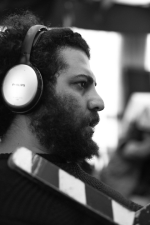 Saeed Roustaee is an Iranian filmmaker. After graduating from Soore University with a Bachelor in Cinematography, he first directed three short films, then a documentary which won over 100 awards worldwide. His feature debut Life and a Day (2016), won Best Directing and Best Screenplay awards at the Fajr IFF, along with several prizes in international festivals. His second feature, Just 6.5 (2019), premiered at Venice Orrizonti. It was nominated for the César Award for Best Foreign Film and won the Best Director Award at the Tokyo IFF.
Synopsis:
At 40 years old, Leila has spent her whole life taking care of her parents and her four brothers. The family argues constantly and is crushed by debts, in a country caught in the grip of international economic sanctions. As her brothers are trying to make ends meet, Leila formulates a plan: to start a family business that would save them for poverty.
While they are in desperate need of financial support, Leila finds out that their father Esmail has secretly been hiding a family heirloom. He had been saving it as an offering to become the new Patriarch of the clan, the highest honor in the Persian tradition.
This uncovering will bring chaos to the already fragile family dynamics. As the father's health deteriorates, the actions of each family member will gradually lead the family one step closer to implosion.