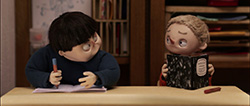 Title: MONSTERS DON'T EXIST
Run time:3:40
Country: Italy
College/Institute Name: Milano Civica Scuola di Cinema (MCSC)
Tomasso and Giovanni are little trouble makers. Instead of behaving during detention, they provoke each other with unusual drawings of monsters. Their art becomes more and more creative until the competition grows in a fight causing the unexpected.