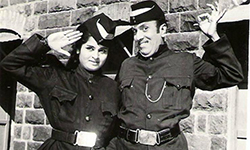 Original name: Pandu Hawaldar
English name: Pandu Hawaldar
Year: 1975
Run time: 143'
Language: Marathi
Type (Colour/ Black & white): Black & white
Country: India
Director: Dada Kondke
Producer: Dada Kondke
Cast: Dada Kondke, Ashok Saraf, Usha Chavan, Lata Arun, Roohi Berde
Screenplay: Rajesh Majumdar
Cinematographer: Arvind Laad
Editor: N.S. Vaidya
Sound Designer: Madhav Patade, Ramnath Jathar
Music Composer: Raamlaxman
Costume Designer: Ramnath Jathar
Production Designer: Arvind Laad
Selected Filmography:
Pandu Hawaldar 1975
Tumcha Aamcha Jamla 1976
Ram Ram Gangaram 1977
Bot Lavin Tithe Gudgulya 1978
Sasarche Dhotar 1994
Director's Biography:
Krishna Kondke, popularly known as Dada Kondke, was a Marathi actor and film producer. He was one of the most renowned personalities in Marathi film industry, famous for his double entendre dialogues in movies. Dada Kondke was entered in the Guinness Book of World Records for the highest number of films (nine) that achieved silver jubilee (running for 25 consecutive weeks). Kondke was called "Dada", an honorific Marathi term meaning "elder brother", which led to his popular name Dada Kondke.
Synopsis:
Pandu is a Hawaldar (police constable) in Bombay police who loves to do his work with honesty whereas his co worker and his friend are totally the opposite of him and only want to extract money from people. He helps a deaf and mute girl he comes across. As the events unfold, there is a smuggling ring involved too. Everything gets entangled, and finally things take a better turn.