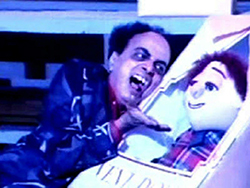 Original name: Zapatlela
English name: Possessed
Year: 1993
Run time: 168'
Language: Marathi
Type (Colour/ Black & white): Colour
Country: India
Director: Mahesh Kothare
Producer: Mahesh Kothare
Cast: Laxmikant Berde, Mahesh Kothare, Jayram Kulkarni, Pooja Pawar, Madhu Kambikar, Kishori Ambiye, Dilip Prabhavalkar
Screenplay: Mahesh Kothare
Cinematographer: Suryakant Lavande
Editor: Vishwash Anil
Sound Designer: Minoobaba
Music Composer: Anil Mohile
Costume Designer: Shyamrao Kamble
Production Designer: Sharad Pole
Selected Filmography:
1985 Dhum Dhadaka
1990 Dhadakebaaz
1993 Zapatlela
1994 Majha Chakula
2004 Pachadlela
Director's Biography:
Mahesh Kothare is an Indian actor, film director and producer of Marathi and Hindi films. He has acted in well-known movies such as Raja Aur Rank, Chhota Bhai, Mere Laal, and Ghar Ghar ki Kahani. Considered a revolutionary figure in the Marathi film industry, he began his directorial career with the groundbreaking Dhumdhadaka (1985) and has since delivered many box office hits over a period of 20 years. Kothare made the first Marathi film in true 3D, Zapatlela 2. It was the sequel to his 1993 hit Zapatlela.
Synopsis:
Inspector Mahesh Jadhav kills a wanted gangster only to be unaware that his spirit has possessed a doll lying in a box nearby. The doll happens to be a gift from Gauri to his brother Lakshhya to be sent to India from America. But no one has the idea that the doll gets possessed in the process. Now, the spirit of the dead gangster wants to come alive yet again in a human body. But the only human body which he could be re-born into happens to be that of Lakshya's. Hence, the doll is on the way to hunt down Lakshya. Will it succeed?