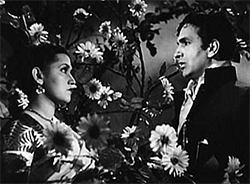 Original name: Anmol Ghadi
English name: Precious Time
Year: 1946
Run time: 122'
Language: Hindi
Type (Colour/ Black & white): Black and white
Country: India
Director: Mehboob Khan
Producer: Mehboob Khan
Cast: Surendra, Suraiya, Noor Jehan, Murad, Leela Mishra
Screenplay: Agha Jani Kashmiri, Anwar Batalvi
Cinematographer: Faredoon A. Irani
Editor: Shamsudin Kadri
Music Composer: Naushad
Selected Filmography:
Judgement of Allah 1935
Andaz 1949
Aan 1951
Amar 1954
Mother India 1957
Director's Biography:
Mehboob Khan was a pioneer, producer-director of Hindi cinema, best known for directing Mother India (1957), which won two Filmfare Awards and was a nominee for the Oscar for Best Foreign Language Film. He started as an assistant in the silent era in the studios of the Imperial Film Company of Ardeshir Irani, before directing his first film, Judgement of Allah (1935) Throughout his career, Khan produced and directed many blockbuster films, the most notable being Andaz (1949), Aan (1951), Amar (1954), Mother India (1957). He has directed 21 other films dating from the late 1930s.
Synopsis
Chandrabhan lives a poor lifestyle with his widowed mom in a small town, and has a childhood sweetheart named Lata, the daughter of the wealthy Deputy. Chandrabhan is heartbroken when Lata leaves town, and he has only a time-piece left with him as a token of their friendship. Years later, Chandrabhan has grown up, and has found employment in a guitar and musical instrument repair shop run by the owner and his friend, Prakash. Chandrabhan, a frequent reader of poetry, is fascinated by the poems of Renuka Devi, and longs to meet her. He does get to meet Renuka Devi, and is pleasantly surprised when he finds out that she is none other than Lata herself. Before Chandrabhan could plan anything else, he finds out that Prakash is getting engaged to Lata. He decides to return home along with his ailing mom. The question remains will Lata and Chandrabhan be re-united in this lifetime?