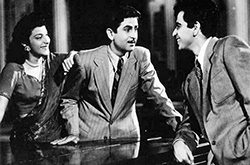 Original name: Andaz
English name: Style
Year: 1949
Run time: 138'
Language: Hindi
Type (Colour/ Black & white): Colour
Country: India
Director: Mehboob Khan
Producer: Mehboob Khan
Cast: Dilip Kumar, Nargis, Raj Kapoor
Screenplay: Shams Lucknowi, S. Ali Raza
Cinematographer: Faredoon Irani
Editor: Shamsuddin Kadri
Sound Designer: Kaushik
Music Composer: Naushad
Production Designer: Keshav Mistry
Production Company: Mehboob Production
Selected Filmography:
Judgement of Allah 1935
Andaz 1949
Aan 1951
Amar 1954
Mother India 1957
Director's Biography:
Mehboob Khan was a pioneer, producer-director of Hindi cinema, best known for directing Mother India (1957), which won two Filmfare Awards and was a nominee for the Oscar for Best Foreign Language Film. He started as an assistant in the silent era in the studios of the Imperial Film Company of Ardeshir Irani, before directing his first film, Judgement of Allah (1935) Throughout his career, Khan produced and directed many blockbuster films, the most notable being Andaz (1949), Aan (1951), Amar (1954), Mother India (1957). He has directed 21 other films dating from the late 1930s.
Synopsis:
Melodrama about a modern young woman who inherits a business empire. She entrusts its management to her dashing young friend who misreads her friendship and assumes that she reciprocates his love. She marries another man, and the business empire disintegrates through mismanagement. The two men clash.