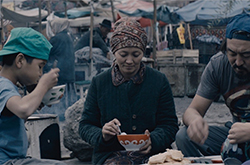 Original name: Suleiman Gora
English name: Suleiman Mountain
Year: 2017
Run time: 101'
Language: Russian, Kyrgyz
Type (Colour/ Black & white): Colour
Country: Kyrgyzstan / Russia
Director: Elizaveta Stishova
Producer: Yelena Yatsura, Andrey Devyatkin, Victor Kuznetsov
Cast: Daniel Daiyerbekov, Perizat Ermanbetova, Asset Imangaliev, Turgunay Erkinbekova
Screenplay: Alisa Khmelnitskaya
Cinematographer: Tudor Vladimir Panduru
Editor: Karolina Maciejewska
Production Designer: Svetlana Dubina
Production Company: Virtual Kick Studio
World Sales: Antipode Sales & Distribution LLC
World Sales Phone: +79629656918
World Sales Email: festivals@antipode-sales.biz
Festival:
Karlovy Vary IFF 2018
Palm Springs IFF 2018
Toronto IFF 2017
Eurasia IFF 2018
Pingyao IFF 2017
Selected Filmography:
Arta (short) 2008
The Hen (short) 2008
Watering (short) 2012
The Seagull (short) 2017
Suleiman Mountain 2017
Director's Biography:
Originally from Moscow, Elizaveta Stishova has spent most of her film career in Kyrgyzstan working with Bishkek-based Aitysh Film. She was assistant director of Queen of the Mountains (2014), the Kyrgyz entry for nomination for Best Foreign Language Film at the Academy Awards. A graduate of the lauded Higher Course for Scriptwriters and Film Directors, Shishova also participated in the 2014 Berlinale Talents Campus. Suleiman Mountain (2017) is her debut feature.
Synopsis
Karabas is a difficult man: a hard-gambling, hard-drinking, child-in-a-man's body who puts only himself first before his family. When his wife #1, Zhipara, calls to tell him she has found their long-lost son, Uluk, Karabas rushes to her, much to the dismay of his much younger, pregnant wife #2, Turganbyubyu.

Soon the new family dynamics are stretched past their limits, and Karabas is caught between his old ways and the two women bearing his sons: one re-born and one yet to come.

Now this unusual family must decide if they are to co-exist or tear each other apart as old wounds are ripped open and deception becomes the rule of the day.Suleiman Mountain tells the coming of age story of a grown man who must first lose love in order to find it.