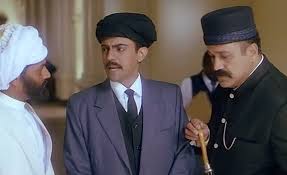 Original name: The Making of Mahatma
English name: The Making of Mahatma
Year: 1996
Run time: 144'
Language: English
Type (Colour/ Black & White): Colour
Country: South Africa, India
Director: Shyam Benegal
Producer: Shan Moodley, Fatima Meer
Cast: Rajit Kapur, Pallavi Joshi, Keith Stevenson
Screenplay: Fatima Meer, Shyam Benegal, Shama Zaidi
Cinematographer: Ashok Mehta
Editor: Avril Beukes
Music Composer: Vanraj Bhatia
Costume Designer: Pia Benegal, Diana Cilliers
Production Designer: Mark Wilby
Production Company: NFDC, South African Broadcasting Corporation
Festivals
National Film Awards 1996
Selected Filmography:
Ankur 1974
Nishant 1975
Mandi 1983
Suraj Ka Satvan Ghoda 1992
Mammo 1994
Sardari Begum 1996
Zubeidaa 2001
Director's Biography:
Shyam Benegal, a director who has carved a niche for himself in Indian cinema. Initially, he started off in the advertising industry before moving on to movies. He made his directorial debut with his film Ankur in 1974. He is known for his quartet of movies Ankur (1974), Nishant (1975), Manthan (1976), and Bhumika (1977). In recognition of his contribution to Indian cinema, he was awarded the Padma Shri in 1976 and the Padma Bhushan in 1991. Benegal was awarded the highest award in Indian cinema, the Dadasaheb Phalke Award for the year 2005.
Synopsis
Biopic of Mahatma Gandhi, focusing on his early years in South Africa as a young lawyer and his growing political activism. Mohandas Karamchand Gandhi was invited to South Africa in 1893 to settle a case for a wealthy Indian settled there. He expected to return in a few months, but instead got involved in the freedom movement, and eventually stayed for 21 years. The film recounts the journey of simple man, from a man to Mahatma (great soul).