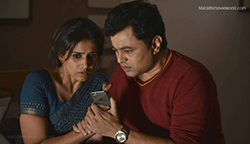 Original name: Ti Ani Itar
English name: Ti Ani Itar
Year: 2017
Run time: 102'
Language: Marathi
Type (Colour/ Black & white): Colour
Country: India
Director: Govind Nihalani
Producer: Dayal Nihalani, Dhananjay Singh, Punit Singh
Cast: Subodh Bhave, Sonali Kulkarni, Amruta Subhash
  Screenplay: Shanta Gokhale
Cinematographer: Govind Nihalani
Editor: Pradip Prabhakar, Panchal
Sound Designer: Prabal MS Padhan, Subir Das
Music Composer: Vasuda Sharma
Costume Designer: Poornima Oak
Production Designer: Leela Chanda
Production Company: Ouranos Creations, Simple Minds
Selected Filmography:
Aakrosh 1980
Ardh Satya 1983
Tamas 1987
Drohkaal 1994
Hazaar Chaurasi Ki Maa 1997
Thakshak 1999
Dev 2004
Director's Biography:
Govind Nihalani is a veteran Indian film director, cinematographer, screenwriter and producer. After working as a cinematographer on many films with directors like Shyam Benegal, his directorial debut was Aakrosh. The film shared the Golden Peacock for best film at the IFFI 1981. Nihalani also worked on camera for Gandhi (1982). His film Ardh Satya (1981) proved to be a milestone for Indian film industry. In 1997, he adapted Mahasweta Devi's acclaimed novel by the same name to Hazaar Chaurasi Ki Maa. Nihalani, and his work with Shyam Benegal is considered to be a game changer for Indian cinema.
Synopsis:
Anirudh Godbole and Naina are a contemporary upwardly mobile middle-class Maharashtrian couple. They stay with their 2 daughters in a comfortable flat in suburban Mumbai. Anirudh has a well-paid job in a corporate firm, and Naina is a rising singer. They invite few of their close friends over dinner to celebrate the release of Naina's music album. The evening begins on a very pleasant and relaxed note. Soon they witness the crime being committed in the neighbouring building and the evening turns into a moral hell for all.