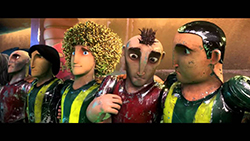 Original name: Metegol
English name: Underdogs
Year: 2013
Run time: 107'
Language: Spanish
Type (Colour/ Black & white): Colour
Country: Argentina, Spain
Director: Juan José Campanella
Producer: Mercedes Gamero, Jorge Estrada Mora, Mikel Lejarza, Manuel Polanco
Cast: David Masajnik, Juan José Campanella, Lucía Maciel, Diego Ramos
Screenplay: Eduardo Sacheri, Gastón Gorali, Juan José Campanella
Cinematographer: Félix Monti
Editor: Juan José Campanella
Sound Designer: Kris Fenske
Music Composer: Emilio Kauderer
Production Designer: Nelson Luty Mariano Epelbaum
World Sales: Film Factory Entertainment
World Sales Phone: 34 933 684 608
World Sales Email: info@filmfactory.es
Festivals
San Sebastián IFF 2013
Aregentinean Academy Awards 2013
Goya Awards 2014
Argentinean Film Critics Association 2014
New York International Children's FF 2014
Selected Filmography:
El niño que gritó puta 1991
Y llegó el amor 1997
El mismo amor, la misma lluvia 1999
Luna de Avellaneda 2004
El secreto de sus ojos 2009
Metegol 2013

Director's Biography:

Juan José Campanella is one of the most important, and famous Argentinean directors of this time. His work spans across feature films, commercials, and mainstream American TV. He made name for himself with his first film, El Niño Que Gritó Puta (1991), followed by Y Llegó El Amor (1997), which competed in the San Sebastian Festival. His film El Secreto De Sus Ojos became winner in 2010 of the Academy Award for Best Foreign Language Film. He has directed episodes of American TV series like 30 Rock, House MD.

Synopsis:

Amadeo lives in a small, faceless town. He works in a bar, plays table football better than anyone and is in love with Laura, but she doesn't know it. His simple routine falls to pieces when Grosso, a young local boy turned best football player in the world, returns determined to take revenge for the only game he has ever lost in his life. With the table football, the bar and even his soul in pieces, Amadeo discovers something magical: the players in his beloved table football speak, and plenty! Together they set out on an adventure-packed voyage to save Laura and the village; and to become a real team as they go. But does football have a place for miracles?