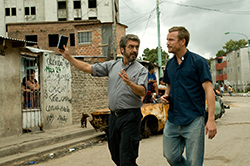 Original name: Elefante Blanco
English Name: White Elephant
Year: 2012
Run time: 110'
Language: Spanish
Type (Colour/ Black & white): Colour
Country: Argentina, Spain, France
Director: Pablo Trapero
Producer: Juan Pablo Galli, Juan Gordon, Alejandro Cacetta, Juan Vera
Cast: Ricardo Darín, Jeremie Renier, Martina Gusman
Screenplay: Alejandro Fadel, Martín Mauregui, Santiago Mitre, Pablo Trapero
Cinematographer: Guillermo Nieto
Editor: Pablo Trapero, Santiago Esteves
Sound Designer: Carlos Lidon
Music Composer: Michael Nyman
Costume Designer: Marisa Urruti
Production Designer: Juan Pedro De Gaspar
Production Company: Morena Films, Matanza Cine, Patagonik
World Sales: Wild Bunch International
World Sales Phone: + 33 1 43 13 21 60
World Sales Email: acquisitions@wildbunch.eu
Festivals
Cannes - Un Certain Regard 2012
Argentinean Academy Awards 2012
Argentinean Film Critics Association Awards 2013
Selected Filmography:
Mundo Grúa 1999
Familia Rodante 2004
Leonera 2008
Carancho 2010
Elefante Blanco 2012

Director's Biography:

One of the prominent directors in Latin American cinema today, Pablo Trapero was born in Argentina in 1971. In 1999 he directed his first feature, Mundo Grúa, which won the Critics' Prize at Venice. His second feature, El Bonaerense (2002) premiered at Cannes, Familia Rodante (2004) at Venice, and Nacido y Criado (2006) at Toronto. Leonera (2008), presented in Competition at Cannes. He returned to Cannes with Carancho (2010), and Elefante Blanco (2012), both in Un Certain Regard. He has sat on the main Festival juries at Venice, San Sebastian and Locarno, among others.

Synopsis:

The "Villa Virgin", a shantytown in the slums of Buenos Aires. Julian and Nicolas, two priests and long-standing friends, work tirelessly to help the local people.

Julian uses his political connections to oversee the construction of a hospital. Nicolas joins him following the failure of a project he was leading in the jungle, after paramilitary forces assassinated members of the community. Deeply troubled, he finds a little comfort in Luciana, a young, attractive, atheist social worker. As Nicolas' faith weakens, tension and violence between the slum drug dealing cartels grow. And when work on the hospital is halted by ministerial decree, the fuse is lit...