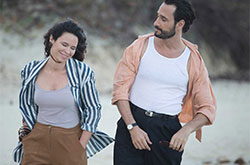 Original name: Un Traductor
English name: A Translator
Year: 2018
Run time: 108'
Language: Spanish, Russian
Type (Colour/ Black & white): Colour
Country: Canada, Cuba
Director: Rodrigo Barriuso, Sebastián Barriuso
Producer: Sebastián Barriuso, Lindsay Gossling
Cast: Rodrigo Santoro, Maricel Álvarez, Yoandra Suárez
Screenplay: Lindsay Gossling
Cinematographer: Miguel Littin-Menz
Editor: Michelle Szemberg
Music Composer: Bill Laurance
Costume Designer: Samantha Chijona
Production Designer: Zazu Myers, Juan Carlos, Sánchez Lezcano
World Sales: Intramovies
World Sales Phone: +39068077250
World Sales Email: mail@intramovies.com
Festivals:
Sundance Film Festival 2018
San Francisco IFF 2018
Shanghai IFF 2018
Selected Filmography:
For Dorian 2012
Boys on Film 11: We Are Animals 2014
Un Traductor 2018
Director's Biography:
Cuban-Canadian filmmaker Rodrigo Barriuso won a Best Canadian Film or Video award at the Toronto Inside Out Lesbian and Gay Film and Video Festival for his short For Dorian (2012). Among his other projects are Jane Corkin: Establishing the Still Image, a documentary; and Discomfort, a video installation. He is currently developing a new film, From My Window.

In addition to making his directing debut with Un Traductor, Havana-born Sebastián Barriuso also produced the film. Among his other films as a producer are Vedado (2008) and La piscina (2012).
Synopsis
In 1989 Havana, Russian literature professor Malin gets a mysterious note at the university with orders from the government sending him to a local hospital, where he learns that he is expected to act as translator between the Cuban doctors, and the families of young patients from the Chernobyl disaster. Initially raging against his new role, Malin is forced to stay on, and he eventually becomes deeply devoted to his patients. But while he becomes "king of the kids" at the hospital, his relationships with his pregnant wife and young son suffer. Meanwhile, life around all of them shifts as the "Special Period"—the economic crisis in Cuba that followed the dissolution of the Soviet Union—begins.