Original name: Amira
English name: Amira
Year: 2021
Run time: 98 min
Language: Arabic, Hebrew
Type (Colour/ Black & white): Colour
Country: Egypt, Jordan, UAE, Saudi Arabia
Director: Mohamed Diab
Producers:Mohamed Hefzy, Moez Masoud, Mona Abdel Wahab, Hany Abu Assad, Amira Diab, Sarah Goher
Cast: Saba Mubarak, Tara Abboud, Ali Suleiman, Ziad Bakri
Screenplay:Mohamed Diab, Khaled Diab, Sherin Diab
Cinematographer: Ahmed Gabr
Editor:Ahmed Hafez
Sound Designer: Alexis Durand
Music Composer: Khaled Dagher
Costume Designer:Hamada Atallah
Production Designer: Nael Kanj
Production Company: Film Clinic, Agora Audiovisuals, Acamedia Pictures
World Sales: Pyramide Films
World Sales Phone:+33.1.42.96.02.20
World Sales Email: sales@pyramidefilms.com
Festivals:
Venice FF 2021
Chicago IFF 2021
Thessaloniki IFF 2021
Tallinn Black Nights FF 2021
Zagreb FF 2021
Director's Selected Filmography:
2016 Clash
2010 Cairo 678
Director's Biography: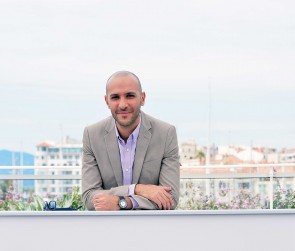 Mohamed Diab is a prominent Egyptian filmmaker who began his career as a screenwriter. His work has achieved commercial success in the Middle East as well as international acclaim. In 2010 he made his directorial debut Cairo 678, about a trio of female vigilantes who fight sexual harassment on the streets of Cairo. In 2016, he followed up with the Cannes Un Certain Regard Opener, Clash (2016), an action-packed political thriller shot entirely from within the confines of a police truck. His latest film Amira (2021) centres around the phenomenon of Palestinian prisoners conceiving children through smuggled sperm. The Disney+ and Marvel Studios series Moon Knight marks his US directorial debut.
Synopsis:
Amira, a 17-year-old Palestinian, was conceived with the smuggled sperm of her imprisoned father, Nawar. Although their relationship since birth has been restricted to prison visits, he remains her hero. His absence in her life is overcompensated with love and affection from those surrounding her. But when a failed attempt to conceive another child reveals Nawar's infertility, Amira's world turns upside down.