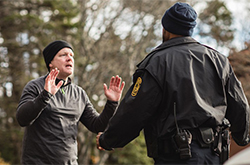 Original name: Black Cop
English name: Black Cop
Year: 2017
Run time: 91mins
Language: English
Type (Colour/ Black & white): Colour
Country: Canada
Director: Cory Bowles
Producer: Aaron Horton
Cast:  Ronnie Rowe, Sophia Walker, Christian Murray, Sébastien Labelle
Screenplay: Cory Bowles
Cinematographer: Jeff Wheaton
Editor: Jeremy Harty
Sound Designer: Brian Power, CAS
Music Composer: Dillon Baldassero
Costume Designer: Kathleen Darling
Production Designer: Nicole Frosst
Production Company: Blac Op Films
World Sales: Moonrise Pictures
World Sales Phone: +34 91 8326550
World Sales Email: colette@moonrisepictures.eu
Website of the Film: https://www.blackcopmovie.com/
Festivals: 5 Movies Max.
Toronto IFF 2017
Vancouver IFF 2017
Chicago IFF 2017
International Film Festival and Forum on Human Rights 2018
Buenos Aires Festival Internacional de Cine Independiente 2018
Munich Film Festival 2018
Miami Film Festival 2018
Selected Filmography
Heart of Rhyme (short) (2011)
Anatomy of Assistance (short) (2013)
Black Cop (2017)
Director's Biography:
Cory Bowles is a multidisciplinary artist from Canada. He has appeared as an actor in film, radio, and television shows, receiving a Gemini Award for the role of "Cory" in the TV series Trailer Park Boys, which he currently serves as a director. He works as a principal choreographer, and director and has created over 70 works/choreographies for stage, and film. His work reflects his fascination with racial identity and social and cultural structures. His short films have been screened at multiple festivals around the world. Black Cop is his debut feature.
Synopsis
It's not easy being a black cop. Your community doesn't trust you, your colleagues are wary of you, and everyone assumes you hate NWA. And when the world is on edge waiting for a grand jury verdict on a high profile police case involving unarmed youth, you can bet all eyes are on you. For one black cop already struggling between duty and moral obligation, it only gets worse when he is profiled by his colleagues off-duty, nearly getting himself killed in the process – pushing him over the edge. Armed with the power of his badge, an antagonizing radio show for company, and some good old fashioned rage - the stage is set for a whirlwind day filled with vendetta and just desserts – as black cop targets the very community that justifies his colleagues –on a collision course with his own identity. Racial tension, law enforcement, and social media are the focus in this hyper active satire.