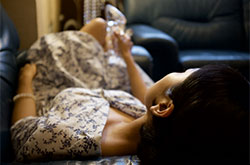 Original name: He Ri Jun Zai Lai
English name: From Where We've Fallen
Year: 2017
Run time: 100'
Language: Mandarin
Type (Colour/ Black & white): Colour
Country: China
Director: Wang Feifei
Producer: Wang Jijie
Cast: Zhang Xun, Jiang Zhongwei, Guo Yue, Liu Zhengkai
Screenplay: Wang Feifei
Cinematographer: Wang Tianxing
Editor: Wang Feifei
Music Composer: Guo Ge
Costume Designer: Chuan Zhang
Production Company: Nanjing Hongran Culture and Communication Co.Ltd.
World Sales: Movie View International
World Sales Phone: 86 1358 155 0177
World Sales Email: info@movieview-int.com
Festivals:
San Sebastián International FF
Buenos Aires Festival Internacional de Cine Independiente
Munich FF
Göteborg FF
Selected Filmography:
Xi Guan (short) 2008
Park (short) 2010
From Where We Have Fallen 2018
Director's Biography:
Wang Feifei directed the short films Xi Guan (2008), and Park (2010). A graduate in Screenwriting from Nanjing Art University, he has been director of operations and curator of the China Independent Film Festival since 2012 and programmer of the Xining First International Film Festival since 2015. He is also an online short fiction writer and university lecturer. From Where We Have Fallen is his debut feature film.
Synopsis
It's past midnight. Zhao goes down to smoke, leaving his drunken wife to murmur her erotic dream upstairs. Neighbour Lee jumps off the building in front of Zhao, and his suicide reveals a secret sex video taken by phone.
Sanqing falls in love with her tutor. She wants to strengthen her relationship with Professor Sun on a seaside trip, but finally realises her efforts are in vain. Hai Long is an old acquaintance of Sun. He tries to bring Sanqing and his client Wang together, giving Sanqing the opportunity to take revenge. In the dark tunnel on the island, Wang tells Sanqing a nightmare that reveals the whole story.